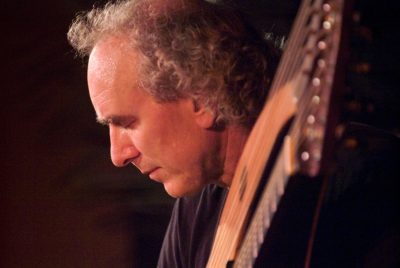 I have been asked to perform a special intimate concert "From Sor to Doan" Saturday, October 22nd at 7:30pm at Casa Della Zisa (click to see other events) located at 4624 NE Fremont Street, Portland, Oregon 97213. Ticket prices $20/individual or $35/family. For tickets and location information, email Peter Zisa [email protected] or call 503-307-4907.
This event takes place in Peter and Yukiko's Craftsman style living room where they have begun showcasing intimate performances where everyone is up close and personal with the music. This will be both a concert, TED talk, and conversation with the audience all in one.  In this setting learn about where the inspiration for the music came from, why the musical language was chosen and what is it trying to say to the listener.
At Peter's request, the concert will begin with harpolyre music of Fernando Sor (1778-1839) who is known today as the "Father of the Classical Guitar." I will play a few pieces on an original harpolyre from 1829, an ancestor to the harp guitar. I have recorded Sor's complete works for this instrument on "The Lost Music of Fernando Sor". This will be followed with more of Sor's music upon a guitar that he arguably commissioned to be built in 1819.  This instrument inspired a creative work titled "Homage to Fernando Sor" from which I will compare and contrast with some of Sor's original compositions. I will play selections from the Sor Homage on the first guitar ever made from 5,500 year old wood by Gary Southwell of England.
The second half will debut new works for harp guitar from my upcoming recording titled "Into The Quiet."  I will play these upon the Jeffrey Elliott/John Sullivan harp guitar which is the first harp guitar in modern times.  I will also play a piece on the latest version of 20 string travel harp guitar by Lukas Brunner of Switzerland.  All the instruments are timeless
masterpieces in their own right!
The music will strive to reach beyond time and to help you in this time travel I will share the back stories to this new material and how Sor has inspired some of this writing.
Look for my new recording in the coming weeks. As always, if you can't make it you can order CD's and DVD's of this music at http://www.johndoan.com/discography/
Cheers,
John
Mason Williams (Classical Gas) says, "John's music is like magic. No special effects or illusion, real hands on real magic. Where all of this music is coming from seems like a mystical experience."
Burl Ives says, "John's music is simply beautiful. No, it is more than that, it is heavenly!"
International Brand Laureate Award: "World's Leading Harp Guitarist."