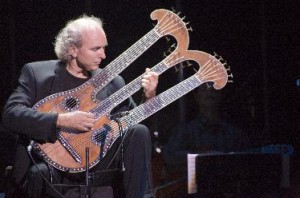 My YouTube videos playing the harpolyre continue to get a lot of attention, and I wanted to share with you a little of the backstory of this amazing three-necked harp guitar.
In an effort to bring history to the harp guitar I discovered ten works for the harpolyre written by Fernando Sor, known as the Father of the Classical Guitar. The amazing thing about these compositions is not only are they extremely tender and lyric pieces, but they had never been played since 1830 and perhaps have never actually been heard in public until my recording "The Lost Music of Fernando Sor" along with my live performances and YouTube videos. I felt like Indiana Jones uncovering this forgotten music for a forgotten instrument.
I ordered the microfilm of this music in 1977 from the La Bibliothèque nationale de France (BnF) and with this extremely rare and beautiful music in my hands, I could only dream of finding one of a handful of existing harpolyres upon which to really recreate these beautiful musical pieces. After thirty years of the hunt, I was blessed to find a circa 1830 harpolyre that had been restored to near pristine condition.