The 9th Annual Harp Guitar Retreat June 23rd -26th, 2016 is a great event to learn harp guitar basics and beyond (see below for a daily itinerary, Saturday concert, testimonials, photos, fees, and registration information).
This is different than a festival environment that focuses on various performers who entertain us with their playing, this is a workshop and immersion experience with the entire emphasis placed on you and how you want to grow as a musician with a harp guitar in your arms.
You will be introduced to:
1. Various techniques and concepts of playing the harp guitar
2. Exploring ideas on how music works through hands on application and all sorts of discovery activities.
3.Composing and performing through personal coaching
4. and being inspired.
If any of the above interests you please consider reserving your place for this summer's 9th Annual Harp Guitar Retreat held at the home of John and Deirdra Doan.  At the retreat you will have access to John's years of experience as a pioneer of the harp guitar, an Emmy-Nominated and award winning recording and performing artist as well as a University music professor.
The setting is nothing short of breath taking with expansive westerly views of the Willamette Valley from atop a towering extinct volcanic plug that the house is built upon (the only eruptions forecasted are of music and laughter).
It is an intimate stress-free environment with all levels of playing/performing encouraged and accepted for an educational seminar involving a very limited number of participants.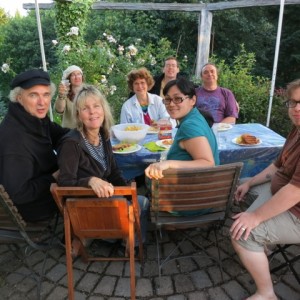 You may come out to learn about playing the harp guitar but you will also leave with some new friends.
The retreat starts with a Thursday night dinner and informal performance for those who would like to play. The class and lessons are laid back and are aimed at working with players who have just started playing the harp guitar and with those who want to put an edge on what they already have accomplished with the instrument and their music.
Weekend morning classes begin with reviewing various exercises from the new harp guitar instruction book John Doan is preparing for publication as well as various activities playing the harp guitar by ear without the distraction of following a written page.
After lunch John works one-on-one with students. One past retreat John found Adrian Bellue playing out in the woods and an impromptu lesson began.
On Saturday in the early evening there is a potluck/concert where the audience brings a main dish and dessert.  People have come from near and far away to be at this event. Everyone enjoys hanging out together at various places around John and Deirdra's mountain top.
We never know who is going to stop by.  At one retreat many in the harp guitar class gathered around special guest Mason Williams listening to what a gas it was to compose and record Classical Gas.
Previous year's concerts have included James Schaller performing on an amazing Alan Perlman nylon string harp guitar.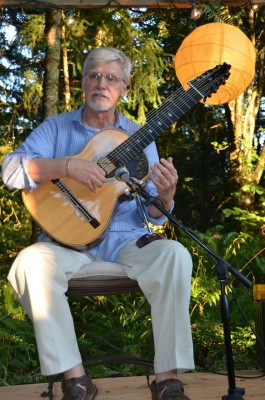 Adrian Bellue has performed several times with his amazing technique sounding like a trio of guitar, bass and drums! Check out  some of the music from his debut album "Draw Inspiration."
To view James, Adrian and John's performance click here for video excerpts from the first half of the concert (special thanks to Don Fries and Bev Bow for filming these segments.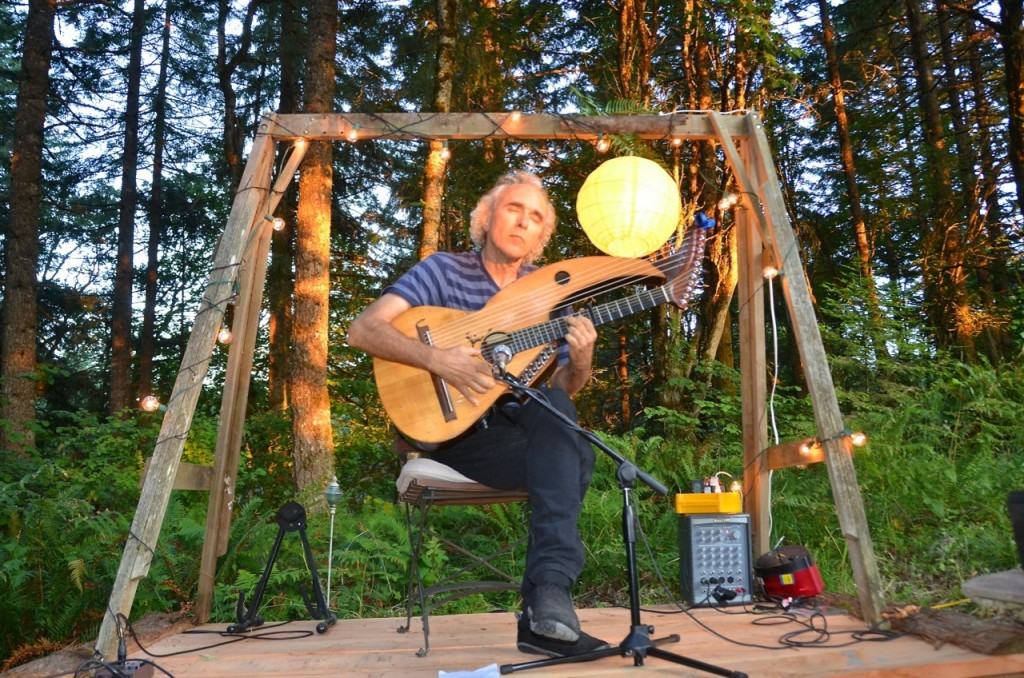 At one retreat John dedicated a harp guitar version of "Ridding the Low Moon" to its composer Mason Williams who was in the audience just as the full moon rose low in the star studded sky.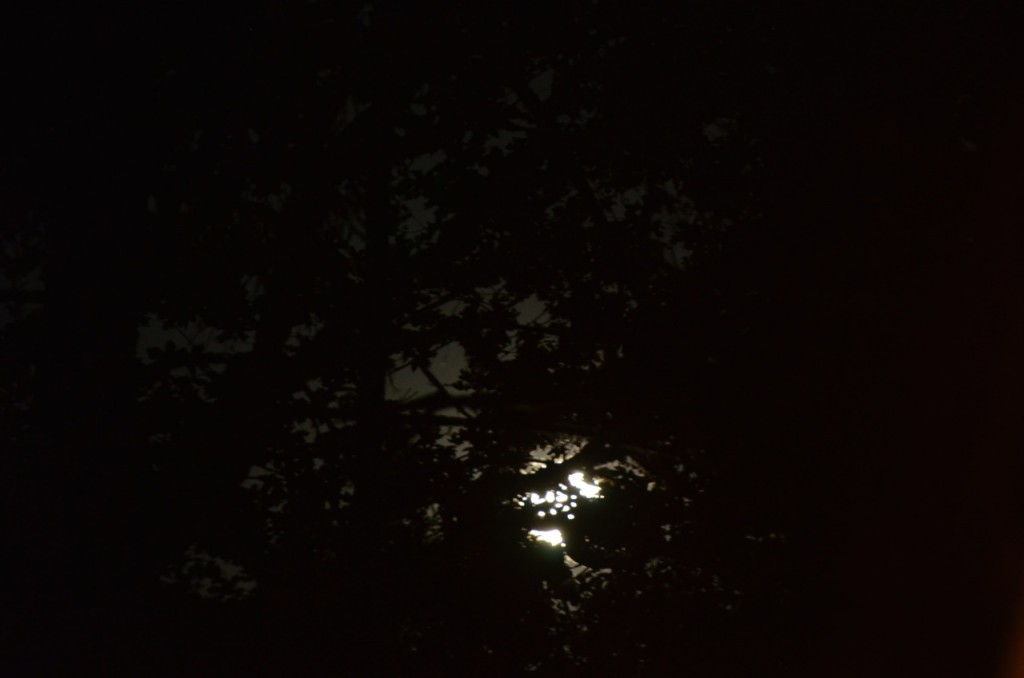 The flickering light of tiki torches and a concert video accompanied John's Celtic Pilgrimage music for the second half of the outdoor concert.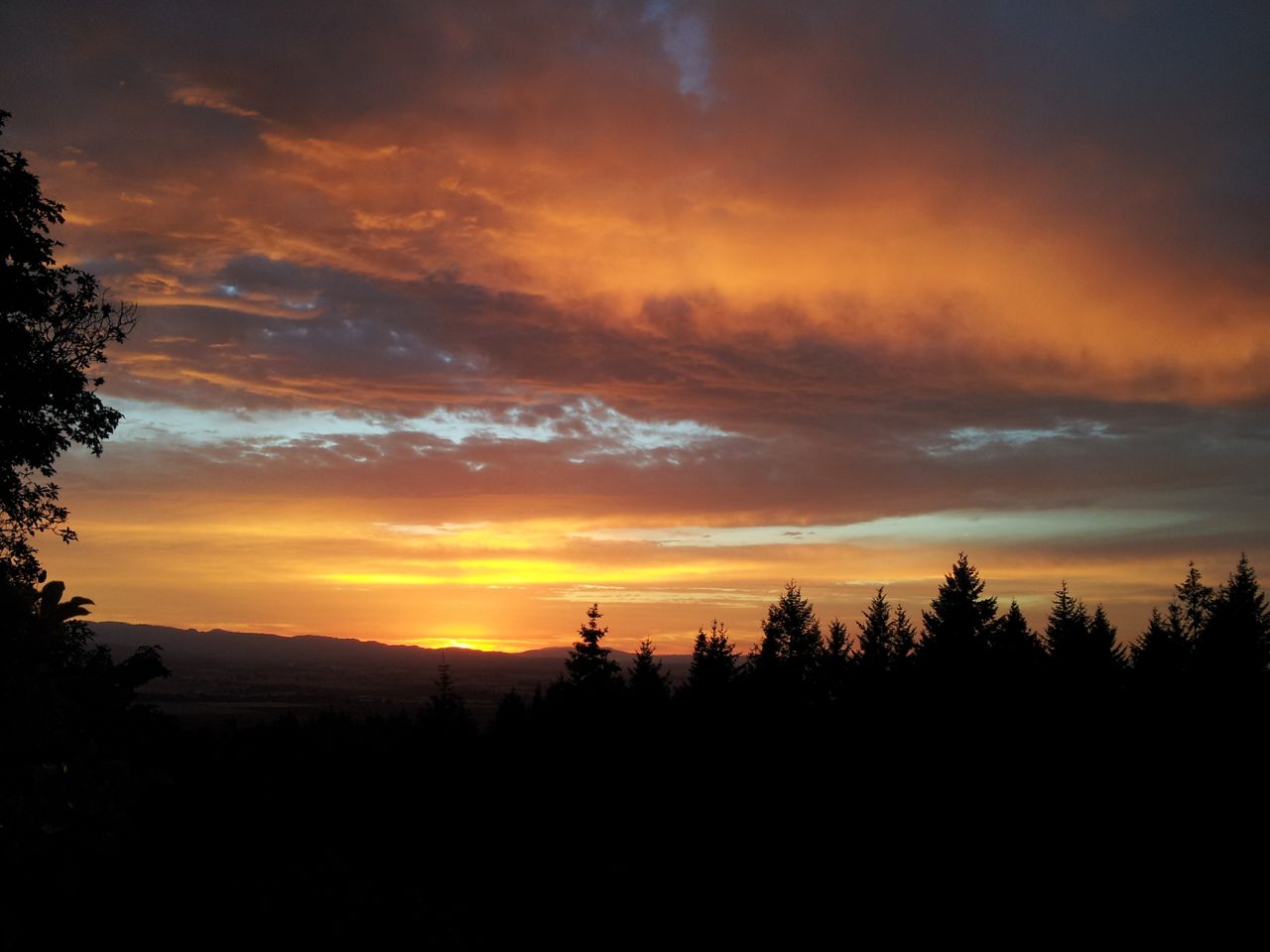 The retreat and the concert are usually capped off by the swirling glow of a spectacular Oregon summer sunset. For those wanting to plan ahead mark June 25th (evening dinner and get together) and 23rd – 26th, 2016 on your calendar and reserve your place for the 9th Annual Harp Guitar Retreat.
Testimonial about the house concert by an audience member
"Thank you again for a memorable evening! Your fairy tale house and grounds, the tour of your incredible instrument collection and Deirdra's art studio, and the pleasant meal with good company and beautiful surroundings, the concert and mood surrounding each piece, and the background STORIES that go with EVERYTHING! It was as if we were in different world for an evening, and it still lingers on." 

Grant Hagestedt
Some Testimonials About the Harp Guitar Retreat
"Thank you for the wonderful weekend and for the knowledge you have given me! I am hoping to return next year. I made some great friends and had so much fun."

Melissa Young  

"Thanks so much for such a wonderful, magical retreat. This was the best one yet. I learned so much, I feel like I'm happily drowning. You taught exactly what I wanted to learn this year, which is how to start learning to play music from the inside, and not just read it note for note off someone else's page.

The entire immersion experience is unlike anything else out there, from the beauty of the setting in your home, to the family closeness with you and the other students, even down to your adorable little doglet. There is nowhere else in the world where one can live a few days in a music monastery, away from all distractions, enclosed by beauty, and learning non stop at the master's knee."
Angele Blanton

"Words can't describe the serenity and tranquility of living with the Doan's for even a few days. Having you as my mentor and my friend is truly a blessing. John you and your harp guitar retreat have influenced a change in my life, and continue to help me grow every year. Everything from the landscape, (which I can tell you've diligently worked on) and the view of the valley, to the magic of working with you one on one, and of course meeting new players and making new friends."

Adrian Bellue

"I came to the harp guitar retreat because of John Doan's Harp Guitar music and from having attended an earlier retreat that rebuilt my entire understanding of music in general and of the guitar in particular.

At the time I was introduced to the harp guitar, I was beginning to do some writing, but it was heavily focused on strumming and arpeggio arrangements for six-string guitars of various sizes and tunings.  The more I listened to John's recordings, the more I was compelled to play the guitar.

Beginning to study music – and the guitar – with John Doan, and within the framework of the harp guitar, allowed and encouraged me to explore different sounds, textures, voicings, tonal relationships and chord progressions.   I love how simple pedal tones from plucked sub-bass strings can be added beneath a familiar chord progression or how the bell-like tones from the super-trebles set a whole different mood when substituted for the introduction on another piece.   Simply experimenting with the major scale R, 5, 10 voicings introduced by John during the Harp Guitar Retreat is fascinating to me, and resulted in a new instrumental piece which I enjoy playing every time I pick up the harp guitar."

Steve Bissell

"The whole event was so magical. Thank you so much for everything. From your first greeting, I knew this was going to be something very special. My wife and I had such a wonderful time and appreciate all of your efforts and hospitality. I felt as though you had taken each of us on a wayfarer's quest into the very soul of music. It was particularly helpful that you didn't just talk about music theory, you showed us how it was used in songs and how to apply it to our own compositions. Wonderful, wonderful and yet again most wonderful!"

Steve Stein

"My participation in the Harp Guitar Retreat exceeded my expectations as John's instruction and personal coaching opened up new creative and performance vistas on the Harp Guitar. John provided a very personal insight to his creative and compositional choices, and make no mistake John Doan is an accomplished composer! Deirdre and John extended warm hospitality and designed a weekend of creativity, music and new friendships. If you play Harp Guitar, do not miss John Doan's Harp Guitar Retreat."

James Schaller
Included with registration: All lodging and meals are on site and included with registration. Printed materials are provided for each student with a series of exercises and compositions to take home after the retreat.
Instruments available on site: There will be several harp guitars on site for your use if you do not have one of your own to bring to the seminar. You definitely will want to check out the latest model of Travel Harp Guitars from Lukas Brunner of Switzerland.
Incidental Activities: There is plenty of hiking trails, tax free shopping, local wine tasting, on site hot tub, trampoline, and wireless internet. The site is central and about one hour away from the Oregon Coast, the high desert of Bend, and the cities of Portland and Eugene. In between classes and private lessons there will be time to just relax, practice, read, explore the area, or casually visit with other harp guitarists.
Space is limited: Retreats are limited from five to seven participants and their guests. Spouses, friends, or family attend at a reduced rate. If needed an additional weekend retreat will be scheduled to accommodate more participants.
Participants Fee: $695
Includes four nights stay, three group sessions, three private lessons, meals, evening presentations, and various incidentals.
Additional guests Fee: $250
Includes four nights stay, meals, evening presentations, and various incidentals.
To enroll or for more information call or write:
mailto:harpguitar (at) gmail.com
503-364-4787
PO Box 5081, Salem, OR 97304