"… the harp guitar of John Doan is twenty strings of magic. Even after watching, I'm still not sure how he managed to do all that!"
The Rocket – The Northwest Music and Entertainment Magazine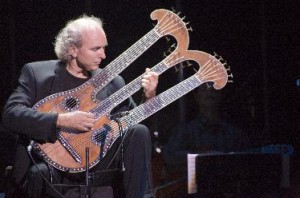 John Doan is the master of the harp guitar and stringed instruments beyond six strings. His "Beyond Six Strings" concerts explore music and stories of his travels "Beyond Borders" to places like China, Western Europe, Eastern Europe and America. The second half gives a bow to follow guitarists from the Northwest that were "Beyond the Ordinary" inspired from his time with John Fahey (Father of the American Fingerstyle Guitar), Burl Ives (Movie Star and Pioneer of Urban folk music), touring with Mason Williams (of Classical Gas Fame), as well as a remembrance of Seattle guitar innovator Jimi Hendrix.
John DOAN – "Beyond Six Strings" Live Excerpts from a Guild of America Lutherie (GAL) Convention in Tacoma, Washington
"John returns audiences to a time when we use to dream before movies did that for us. The interesting thing about the harp-guitar and especially the way that John has mastered it, is that the music issuing forth seems like magic, magic put back in the hands of the magician. No special effects or illusion, real hands on real magic. Where all of this music is coming from seems like a mystical experience. He's an outstanding composer and arranger as well. His take on any tune is always a remarkable vision."
Mason Williams: Composer of Classical Gas
"I have no idea where I have been for the past several minutes! What incredible music you make!"
Doc Watson
"…his playing is an exquisite union of the ancient and the contemporary, the austere and the sensual."
The Washington Post
While in Germany at Peter Finger's prestigious Acoustic Music Studio John explains the additional strings of the harp guitar and then plays "Wake."
His "Beyond Six Strings" concert included music from his popular albums, A Celtic Pilgrimage, Departures, Eire – Isle of the Saints, Harp Guitars Under the Stars, Remembrance – Melodies from a Forgotten Era, The Lost Music of Fernando Sor, Wayfarer, excerpts of which can be found in his DVDs A Celtic Pilgrimage and In Search of the Harp Guitar.
John plays live in an ancient church in the thousand year old village of Rigomagno (Siena – Italia) to a standing room only crowd. The one language we all understood was the language of music. The evening was pure magic.
"Your concert was our first sell out ever. Every seat was not only filled, but filled with enthusiastic, happy listeners who have sung your praises ever since. Several people have commented on your ability to weave stories and music into a captivating and enchanting evening's entertainment. The concert was a delightful trip into a world of sound and new sight, and we all enjoyed the history lessons along the way."
Chemeketa College, Salem, Oregon
On tour in Europe in 2013, Canale di Nellowhite produced the following live YouTube videos of the concert at Six Bars Jail in Italy.
John DOAN in concerto al SIX BARS JAIL Tra Amici – 14.5.13
John DOAN in concerto al SIX BARS JAIL Farewell – 14.5.13
John Doan has published much on the history and techniques of the harp guitar and multiple stringed instruments such as Beyond Six Strings – From Sor to Hendrix, The Inevitable Harp Guitar: Recurring Cycles in Guitar Evolution, Beyond 6 Strings: Harp Guitar Renaissance, and The "Expanded" Harp Guitar – Adding Possibilities with Super-Trebles. You can find more in his Beyond Six Strings category on his blog.
John was the first to record an album on the Harpolyre, a three-necked harp guitar, on his best-selling CD, The Lost Music of Fernando Sor, resurrecting the music of Fernando Sor as it was originally composed for the harpolyre, but better known as the rearranged version for six strings played by classical guitarists worldwide.
John Doan brought his "Beyond Six Strings" concert to his home during his annual Harp Guitar Retreat, a long weekend with harp guitarist students and fans exploring the possibilities of breaking past the limits of six strings.