Phan Thiết is due west of Ho Chi Minh City a mere 125 miles but 6 and a half hours by bus!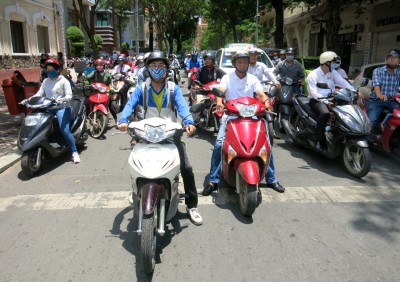 It takes that long because there are no freeways, just surface streets filled with mopeds and various other obstacles!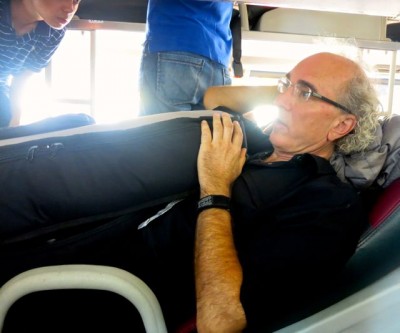 On the bus I could lay down but there was not much room to store my harp guitar. A nice boy who was getting off at the next stop offered to hold it for me.  Although the thought crossed my mind that this was one way to introduce the harp guitar to Vietnam I decided to hold on to it for the duration of the trip.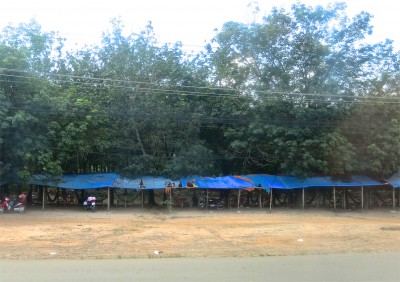 Along the way I saw various tarps lining the roadway.  I was told that they were moped motels where many travelers pull in to rest for the night.  I understand that they come complete with a hammock, en suite in the bushes, great ventilation and roadside views.
Our destination was the Red Apple School where our hosts Tinh Mahoney and his assistant Tam teach English to children and adults. This is just one of Tinh's efforts to help children in Vietnam.  He started the Village School Foundation in 2002 with the motto "Empowering Children With Education." He has since built seven schools in rural areas with the help of many generous donations from supporters who believe in this work.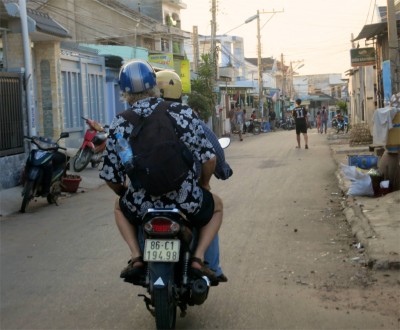 The next day Tinh took me for a spin on the back of his moped and after a few near death collisions…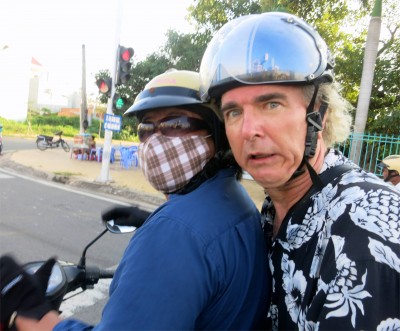 I started to relax and enjoy the ride.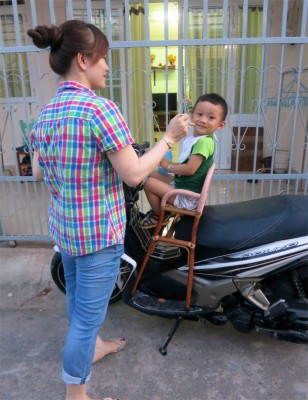 People here do almost everything from the seat of a moped.  This mother has made a highchair for her son deciding to pull over to fed him rather then doing this while driving.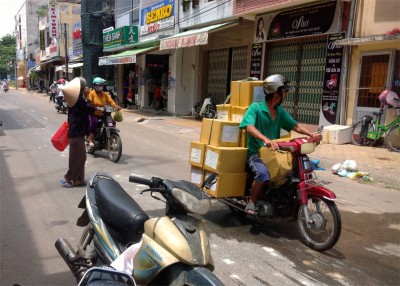 Vietnamese see no need for delivery vans when you can just pile eight hundred pounds of goods on the back of your moped! This guy could really pop wheelies when he put on the gas.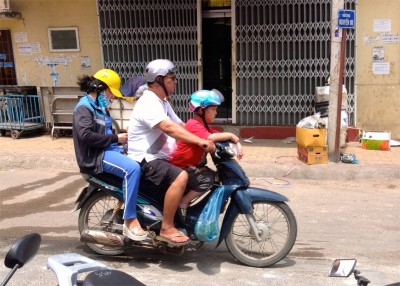 One family passed with a young boy helping his father to avoid running anyone down while his mother on the back played video games on her cell phone.
Deirdra rode with Tam.
I rode with Tinh.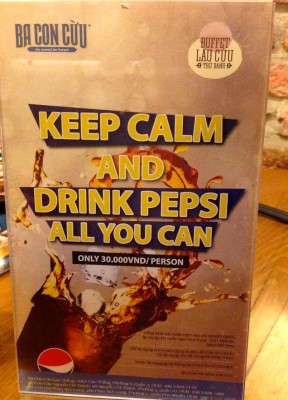 Tinh stopped at a convenience store and got me a Vietnamese version of a "Big Gulp" to calm me down for the more dangerous night moped driving.  It only cost $30,000 in their money!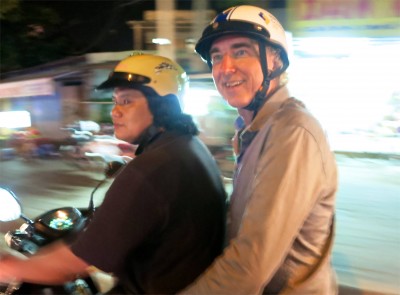 It really worked!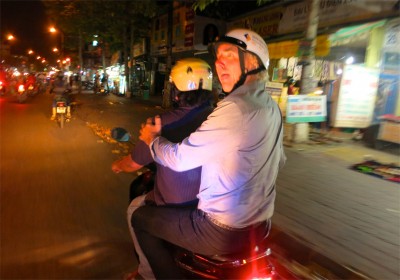 I actually started to enjoy screaming "we're going to die, we're going to die" as the street signs began to blur when we gained speed.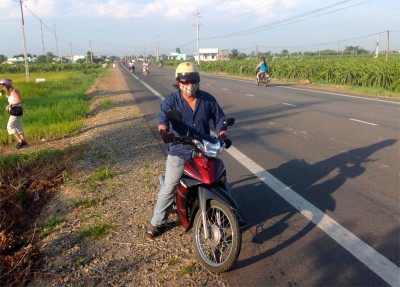 The next day Tinh ad Tam took us to the country side just outside of Phan Thiết.  This was the area where Tinh lived as a child during the war.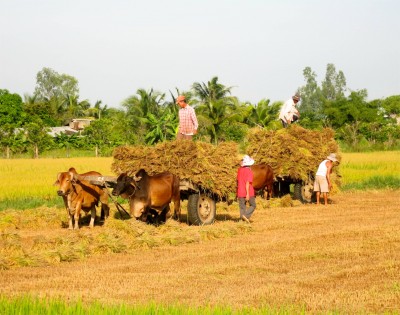 As life goes on memories of fighting seem plowed into the earth giving way to honest work and a harvest of grain loaded upon oxen drawn carts.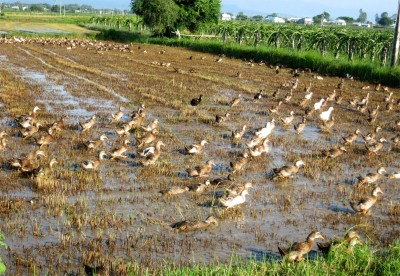 I thought I saw a "flock" of ducks but was corrected. Ducks are often referred to as a "raft", "team" or "paddling" while the group is on water. I had to watch using proper language as I was staying at an English school!
We saw groves of Dragon Fruit as far as the eyes could see.  The region is famous for its cultivation.  Dragon fruit stands can be seen on many streets.
We went from Dragon fruit to a Dragon Festival.
We were so impressed with the colorful costumes.
All the more amazing was the synchronized marching and dancing all done in 100+ degree weather!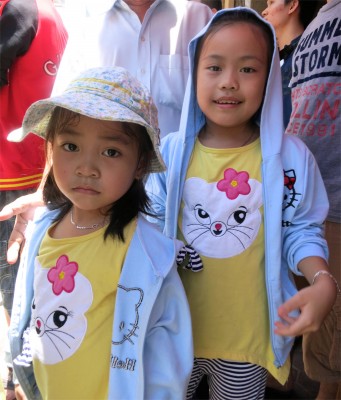 What really stole the show were the hundreds of people lining the streets cheering on the parade. One mother proudly asked us to take a picture of her children. They are so dear!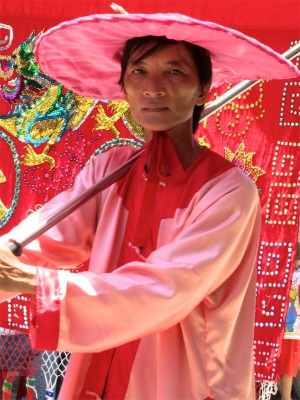 The event was a photographers field day with locals shimmering past in colorful fine silks covered in elaborate hand stitched beads and sequins while shaded by breathtaking hats of all shapes and sizes.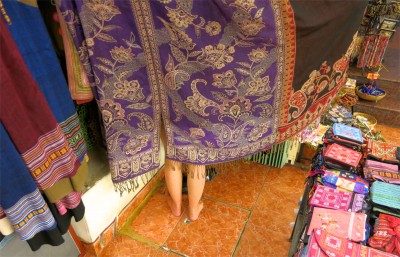 Clothes shopping was great fun for Deirdra or possibly more fun for me chronicling her use of a makeshift dressing room.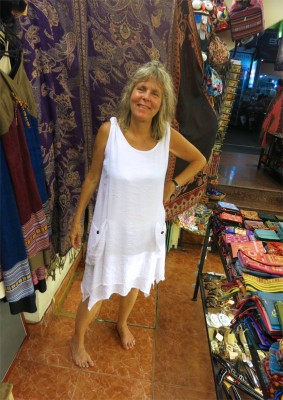 This silk and cotton blend dress was a steal at $318,375.00 Vietnamese Dollars. When I went to pay that price it felt like I was buying ocean front property until I figured $1 USD equaled 21,225.00 VND totaling $15.00 USD.
It has been a well kept secret that Phan Thiết has tropical ocean beaches but recently Tourists from China, Russia and Salem, Oregon have been discovering its warm waters and gentle breezes.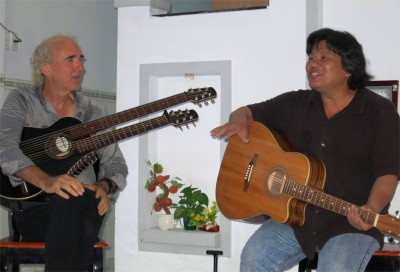 Later that night Tinh and I performed a secret concert at an undisclosed location. It is required by law to formally register any gathering of nine or more people.  The event can not be religious or political.  Tinh predicted it would take a few years and numerous bribes to get approval so we went ahead and performed anyway.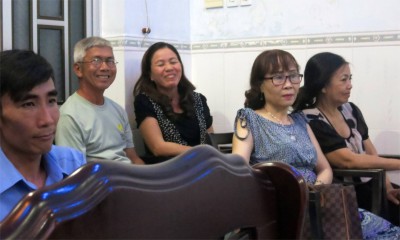 He invited eight people who really enjoyed the music. They seemed to laugh a lot when Tinh told jokes.  They also seemed to laugh a lot when I played the harp guitar.  They seem to be very happy people.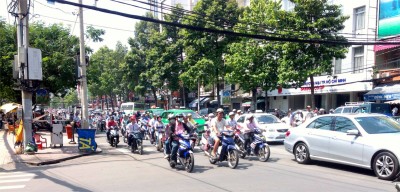 We returned to Ho Chi Minh City before flying back home.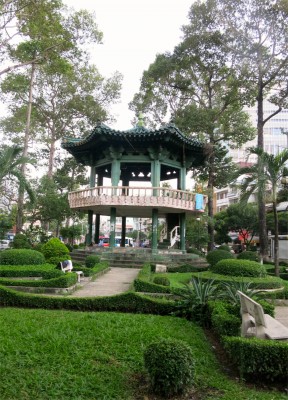 It was a beautiful day walking through one of the city parks until …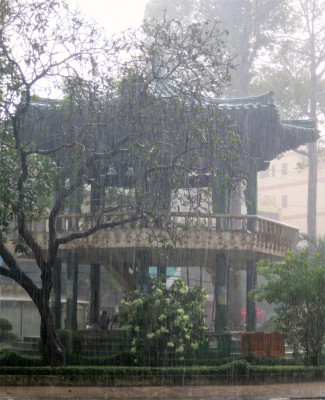 It started to rain.  It came down so hard that it filled the streets with water.  Being without umbrellas we ran to a restaurant to wait out the storm.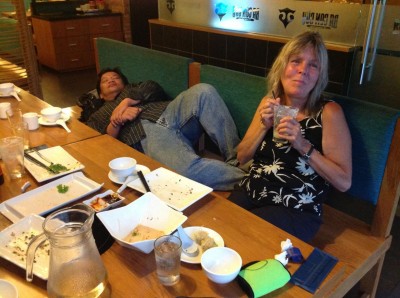 A couple hours went by so we kept ordering food and started to lay down.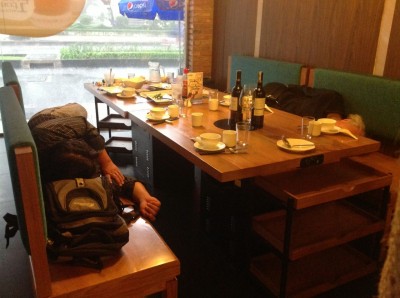 Into the third hour of the storm we went to sleep at the table while Deirdra had fun taking pictures.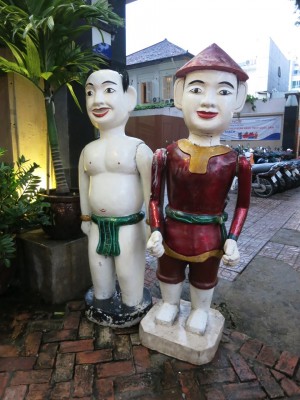 On our last night in Vietnam we went to a special water puppet show.
At first I didn't realize that the stage was actually a pool of water.  Then one by one the puppets emerged up out of the water.  Even a Dragon appeared spouting sparks and fire!
It was simply magical the synchronized movements enhanced by special lighting, smoke effects, and a live ensemble of musicians off to either side of the stage.
After the show the puppeteers waved to us goodbye.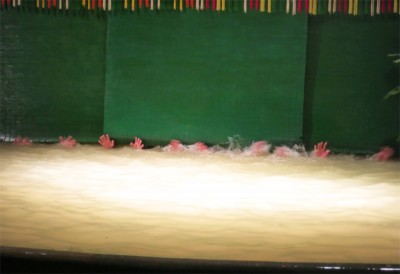 Just as they didn't want to leave so we also didn't want to say goodbye to all the beautiful Vietnamese people, the exotic adventures, and to our dear friends Tinh and Tam.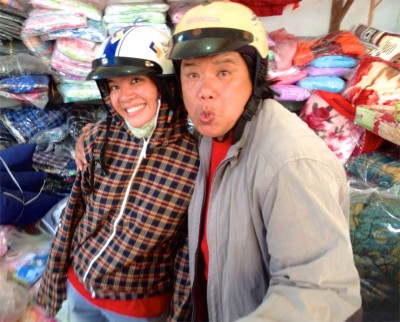 As Tinh blew us a kiss goodbye we took off to the airport.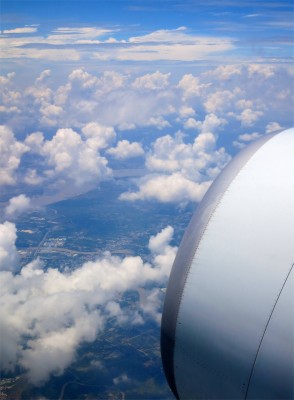 Once in the air our South East Asia tour slowly drifted into cherished memories and a longing to return.