I've been taking you on a journal tour of European Tour 2013. So far we've revisited our arrival and adventures in Paris, played with fast cars and harp guitars in Le Mans, and exploring more of the french countryside with castles, toys, and of course more harp guitars. After having our fun in France entertaining all with story and song, we moved on to Florence, Italy. The next part of this journal tour of Europe revisits Pisa, Italy, for more concerts, great food, and harp guitars – oh, and a once leaning tower.
After performing in Florence I took a train to Pisa. It is the local custom to not look at each other on the train.
International guitarist and rising star Andrea Valeri invited me to come and record with him on his latest CD project (he is very proud of the monument that was erected as a tribute to his first initial).

At first it was hard to get his attention as I was not Russian, red haired and twenty years old like his muse Sophie whom he meet a few months earlier while on tour in Moscow.
The Italians love to dine and play music at the table.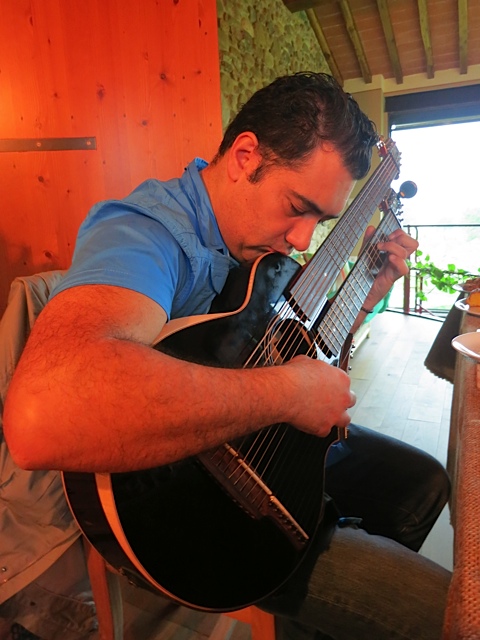 One of the most amazing fingerstyle guitarists I have ever heard, François Sciortino had just recorded with Andrea and grabbed by harp guitar from me and began to make me feel like a beginner all over again.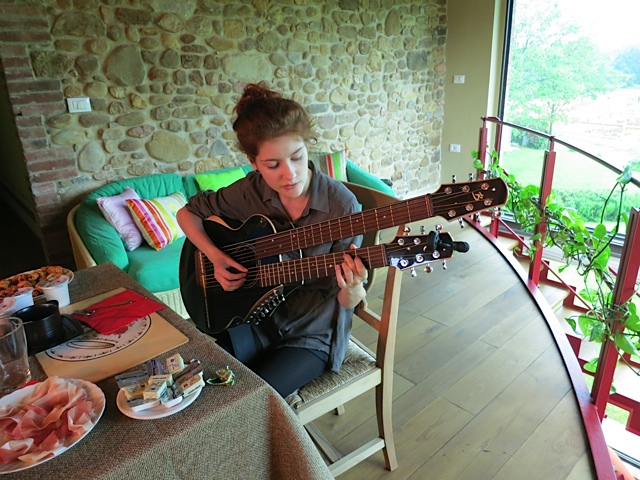 Sophie, unwilling to be upstaged, grabbed the harp guitar and began to sing like a molodaya zhenshchina in love.
Andrea and Sophie took me to his parents house for a home made Italian dinner.
I was surprised when they all joined in singing "Happy Birthday" in Italian while clapping their hands to the music (Deirdra must have told them!).
Andrea then took me to his favorite studio where we meet Marco Baracchino (it's owner and engineer).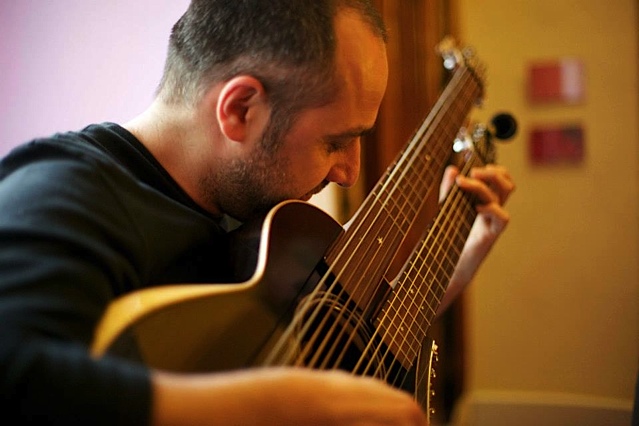 The session was delayed until we could pry the harp guitar out of his arms so I could lay down my track.
After the session we visited the leaning tower of Pisa. I must have pushed too hard to straighten it out and Andrea and I decided we better leave quickly before any one noticed.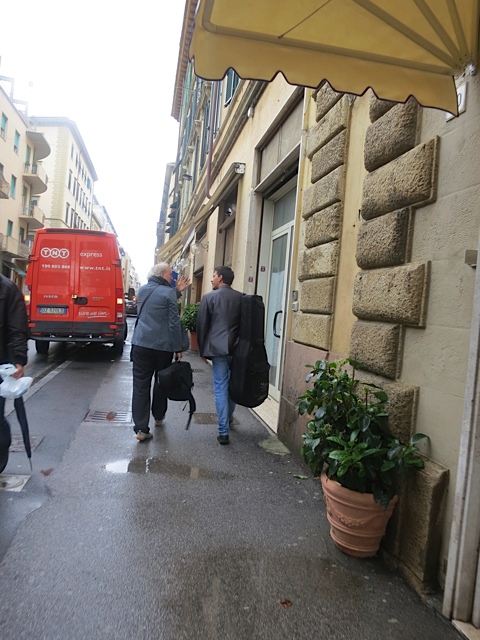 Look for a new recording by Marco Baachhino in the fall.
Europe 2013 Tour – The Journals
These are from the journals of our European Tour 2013.