Early in May I had an adventure visiting L'viv, Ukraine to give harp guitar concerts.
It was like entering into a time warp as the city had a holiday celebrating its long history with people walking through the streets in medieval costumes.  There were even horse drawn carriages.
Ancient church walls were adorned with spectacular gold icons and detailed wall paintings.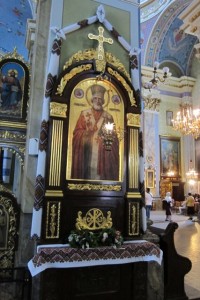 There were shops with handmade goods like this candy shop brimming over with tempting delights.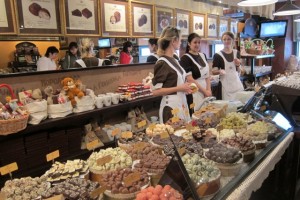 The central park benches were either filled with lovers locked in Ukrainian embrace or with old men playing board games.
Deirdra and I were waiting our turn for a park bench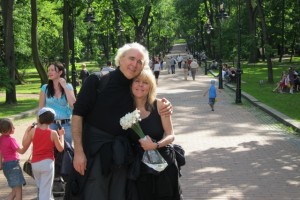 I sat down and had a long talk with one of the locals and later went atop a building for a view of the city skyline.
There were children dancing to folk music on a large stage in the town square.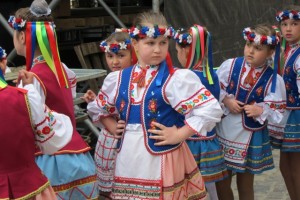 This is where I introduced the 20-string harp guitar to mobs of cheering Ukrainians who were introduced to the instrument as "The Bandura of the 21st Century" (read on about the Bandura).
The real exciting part to my adventure in Lviv was a visit to the Trembita Musical Instrument Factory. They have years of experience building Ukrainian instruments like the Bandura. It is not unlike the version of harp guitar I have championed my entire career (complete with super treble strings).
It was amazing to see the walls lined with instruments.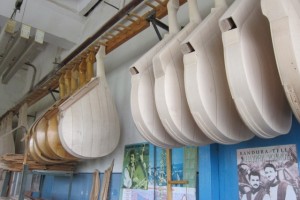 They have remained a Ukrainian favorite for centuries as seen in one of the local sculptures. An image of one is even found on their money.
Myron Kuzemsky, the president of the factory, showed me one of the Banduras near completion.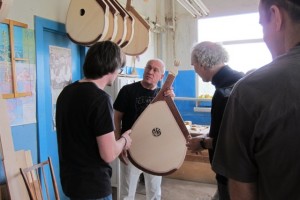 I meet Jay Buckey who is working with Trembita to make harp guitars. The one I tried out was made quite well and had a very nice tone. Jay showed me one of the tops for an upcoming Dyer Model harp guitar.
Jay Buckey has formally started his new company "Your Harp Guitar" after a series of test instruments were made.  He has overseen a number of modifications and has even included in his future production harp mandolins and the new 21-string "John Doan Model" – a harp guitar based on the plans of his Elliott-Sullivan harp guitar (with an added bass string).  He is consulting with its noted designer – Jeffery Elliott aiming at the highest quality in an affordable instrument.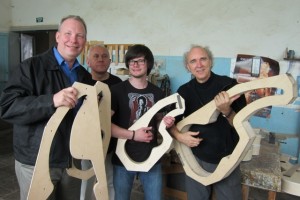 Before leaving L'viv Jay and I gave the first harp guitar concert in Ukrainian history with a little help from his friends (Alla who has the voice of an Angel, and Peter who moved the audience to tears!). The audience was so responsive with applauds that continued on and on prolonging the concert.  They loved it and we loved playing for them.
One fan came 3 hours by train to come to the event.  He is anxious to make a "Your Harp Guitar" one of his own and with the factory gearing up to produce 40 harp guitars a month this dream can come true.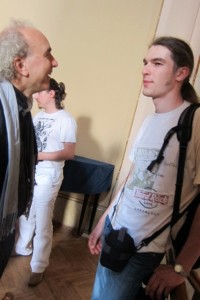 Do the math.  At that rate of production most harp guitars made on the planet will come from L'viv, Ukraine perhaps making it by sheer numbers the harp guitar capital of the world someday!