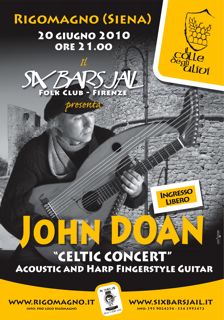 Following is an interview published after my visit and concert in Rigomagno – a thousand year old hilltop village in Tuscany, Italy. Used with permission.
We are curious to know how it all began: it's such a peculiar instrument, how did you get interested in the harp-guitar?
In a world increasingly filled with machine made things that are all made the same I have found it refreshing to celebrate the unusual. I grew up in Venice, California in the United States – a place inspired by Venezia in Italy. I guess beauty and the unusual seemed to go together in my youth and while in my teens I played the 12 string guitar and a double neck electric in a rock band. Later, while studying music at a university I was introduced to classical guitar. I really enjoyed the music for the lute and was amazed at the sound of its many strings. When I later found a century old harp guitar on the back wall of a music store it called to me with its beautiful shape and unusual collection of extra strings. I was achingly curious and wanted to transform its silence and neglect into something alive and vibrant. It was and continues to be an adventure to play music on the harp guitar.
What's the origin of the harp-guitar? And what about your instrument? Did you have it built especially for you? In this case, where did you find the model? Is it an original model you designed?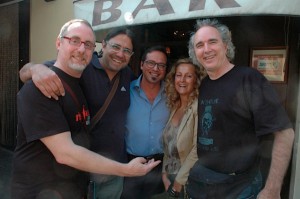 The harp guitar in America was first popular from the 1890's through the 1920's. People played them in mandolin orchestras, vaudeville shows, and in their parlors. In Europe the harp guitar was becoming popular as early as the 1840's and grew in popularity up through the early 1900's especially in Germany and in Italy. Pasquale Taraffo is one of the great Italian masters of the instrument in the early 20th century. To learn more about this amazing player from your own history check out the information on Taraffo on the Harp Guitars site.
Regarding my instrument, I commissioned it in 1986 from John Sullivan with oversight and design by Jeffrey Elliott of Portland, Oregon. Jeffrey had made guitars for Julian Bream, Ralph Towner, etc. and I was excited to see how he would approach the challenges of so many strings and meet my requirements of evenness of tone using steel strings. Although based on the Knutsen, Dyer, and Gibson harp guitars from a century earlier it was completely redesigned to be a master instrument that would sound evenly across all its range (like the piano). It is considered the "first modern harp guitar" of our times. Scores of copies have been made and it was recently on the cover of the magazine "American Lutherie."

Talking about technique what's the difference between the traditional 6 string guitar and this 20 string guitar? Is there any literature available for someone who would like to approach this instrument or "do it yourself" is the only way?
The twenty-string version of the harp guitar that I play is very much a guitar but with additional strings to either side. Whatever technique you are comfortable with on the guitar you can use on the central guitar neck. I have found using lute technique for my right hand useful where instead of lining up my knuckle with the strings I almost line up my fingers to the strings. It allows me greater reaching to the basses and super-trebles and it brings a warmer sound to the plucked string.
Regarding learning the harp guitar, I host a Harp Guitar Retreat at my house in July each year where people from all over the world come to study. I have various exercises with scales, intervals and chord voicings that I teach. I also have scores of my music I have recorded over the years available if anyone wishes to write me to inquire about them: mailto:[email protected]. I also have a DVD available titled "In Search of the Harp Guitar" that shows the history, makers, and players of the instrument.
Basically, just pick up a harp guitar and have fun. Play it anyway you would like and explore a world where you are washed over with sound.
About interpretation: what kind of music can you play on this instrument? The harp guitar seems just designed for Celtic music but we've listened to your astonishing version of Purple Haze, can you play anything with the harp-guitar?
I play a variety of styles of music on the harp guitar – basically any style that is played on the guitar. The harp guitar will give you more resonance, range, and facility. What guitarists usually don't think about is that on the guitar you have to do two things to get one note – pluck with the right hand and finger with the left. On the harp guitar you can simply pluck on open bass or super-treble and your left hand is free to play anything on the fingerboard without having to be locked into a position to hold down a bass note or hold a melody note when the bass and harmonies could be changing on the guitar. I love fingerstyle, classical, rock, Irish, etc, and sometimes combine styles to say something I imagine musically.
By the way, talking about Irish music, at your concert we noticed that you not only are an expert in Irish music but also in Celtic culture and traditions (NdT: poor Pierangelo had to translate all those legends for you). Where does this come from? Are you of Celtic origin?
I try to be a musician first and guitarist or harp guitarist second. I think that music has meaning and so I often find myself writing about what stirs my heart and soul while trying to make sense of the world around me. I tend to develop musical works around a concept so my recordings are not just a collection of guitar pieces but are an attempt at understanding something.
My Christmas CD "Wrapped In White" tries to breath new life into old carols using dozens of century old instruments in new arrangements and medleys often scored for chamber orchestra and small ensembles. The television show that features this music "Victorian Christmas with John Doan" was nominated for "Best Entertainment Special of the Year." In this program I try to recreate a time when people actually entertained themselves and each other before machines did that for us. It is often a revelation to the audience that we are less and less actively living our own lives but instead watching others doing things in movies, sporting events, at concerts, etc.
My Irish recordings "Eire – Isle of the Saints" (won best Celtic Album of the Year) and "Wayfarer" are musical sketches I made on location through Ireland and the greater British Isles chronicling the life and times of St. Patrick. The history of the places I wrote music about was so compelling that I found myself wanting to reenact the storytelling tradition of the old Irish Bards in my concerts. This all brings the music to life and helps audiences follow and learn from its meaning.
Regarding my Celtic origins, I definitely have some Irish in me. My name Doan comes from one of six early Celtic place names "Dun" meaning hill fort. Perhaps that is why I felt so at home at the hill fort of Rigomango (actually I think it was the wonderful and warm Etruscan people who made me fall in love with your hill town).
The last question: what are your plans for the future, any new musical project?
In an effort to bring history to the harp guitar I discovered ten works for the harpolyre written by Fernando Sor (aka. the "Father of the Classical Guitar"). The amazing thing about them is not only are they extremely tender and lyric pieces but they have never been played in public since 1830. I felt like Indiana Jones uncovering this forgotten music for a forgotten instrument.
I have since gotten into Sor's music and have found the instrument Sor supervised being made in London in 1819 as a copy of his personal concert guitar and have written a tribute album to him called "The Lost Music of Fernando Sor" on the harpolyre using his musical language so that I am in conversation with him over the centuries. It is very romantic and some of the most delicate music I have written to date. After this project I will finish an album titled "Icons of the Sixties" where I will include harp guitar versions of Hendrix, Morrison, McCartney, etc.