John Doan a pioneer of the twenty-string harp guitar. He is also an Emmy-nominated performer, composer, public speaker, historian, instrument collector, and university professor. Upcoming concerts are listed in the calendar and news, updates, and articles can be found on John's blog.
John Doan performs internationally on stage and at fairs and festivals, dazzling audiences with the harp guitar and other multiple stringed instruments. Upcoming concerts include: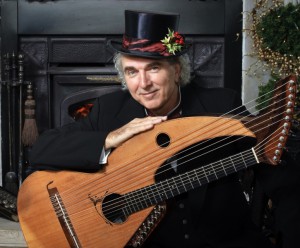 John Doan's Victorian Christmas Concert tour is lining up for winter 2012. Concerts in Arizona and Oregon are confirmed. Stay tuned for more news or subscribe to the site or email alerts to be notified of upcoming concerts.
To listen to samples of John Doan's music and buy CDs, visit the Discography pages where CDs, DVDs, Sampler Releases, and Sheet Music.

John Doan offers group, private, and college courses on the harp guitar, multiple string instruments, history of music, and more. The annual Harp Guitar Retreat in his home in Salem, Oregon, is every July. This year's Harp Guitar Retreat is Fifth Annual Harp Guitar Retreat July 6-8, 2012, and registration is now open.
Contact John Doan for more information on performances, speaking, and concerts, or if you have questions about the annual Harp Guitar Retreat.
To learn more about John Doan, check out his blog, biography, read press reviews of concerts and recordings, watch videos, view a gallery of fascinating string instruments from around the world and throughout history, many of them from John's collection.