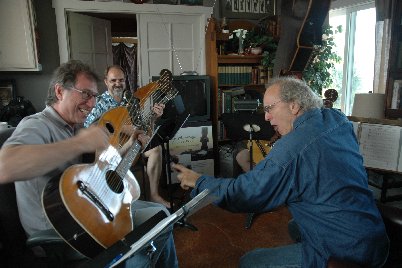 "Thanks for the extravagant hospitality and the wonderfully constructed program for harp guitar players and those wishing to learn. The whole retreat is simply an immersion in how to live the harp guitar. More than a teaching, learning experience it was more like living in harp guitar dreamtime. You both live what it means to be true servant leaders and friends to all. My life has been enriched. And as for the other sojourners on this journey I was fortunate to meet at the retreat; you are my sisters and brothers for life now."
Bob Gilfert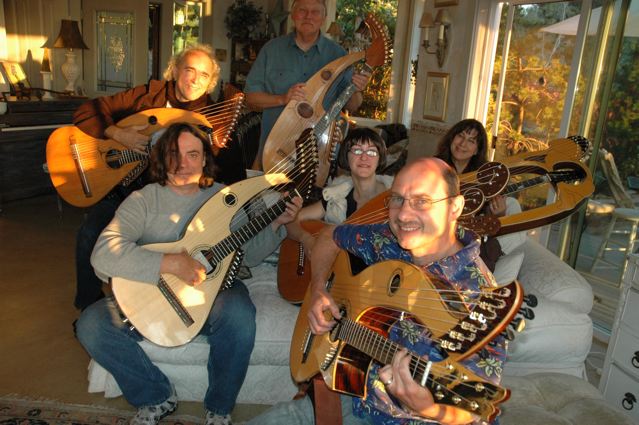 The Annual Harp Guitar Retreat in the Oregon home of John and Deirdra Doan was held in June every year. This event has been postponed until further notice.
The Annual Harp Guitar Retreat has been an intimate stress-free environment with all levels of playing/performing encouraged and accepted for an educational seminar limited to five to seven participants.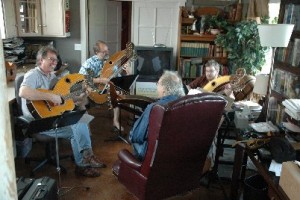 The event emphasized instruction and inspiration for those wanting to improve their harp guitar playing skills in a hands-on environment. Instruction addressed playing harp guitars with sub-basses only as well as harp guitars with sub-basses and super-trebles. There were several harp guitars available.  There were private and group lessons, intimate concerts, and lots of kick back and practice time to suit your interests.
"I am really glad I had the opportunity to go to the Harp Guitar Retreat. I've been thinking how best to describe my experience. Before I went, it was like I had an unbuilt model car on my hobby table, with no glue and no instructions. I had a hood, axle, doors, but I didn't know how to put them together to make a car. The Retreat gave me the instructions and the glue. I've been teaching myself theory, so I know about modes, building chords, keys. In our Church group, I regularly use alternate bass as well as walking bass lines. You can see that I've also incorporated them into "Attaklet of the Katlets" (alternate bass) and "Puttin on the Ritz" (my arrangement had the walking bass – the original score doesn't). But, my problem was putting everything together. My rock guitar background taught me to use 5 and 6 string chords which may or may not be useful in fingerstyle. You showed me the multiple voices of 3 string chords with open strings, very useful for fingerstyle. You described the aural and emotion effects of sub-basses and super-trebles, which will help me considerably in my composing and arranging. You provided exercises and philosophies for learning my way around the harp guitar. In my opinion, those three days provided me with an extremely strong foundation with which to build a musical career. I can't thank you enough for everything that you provided. You gave me the instructions, and the glue."
Norm LeDonne Jr.
Instruction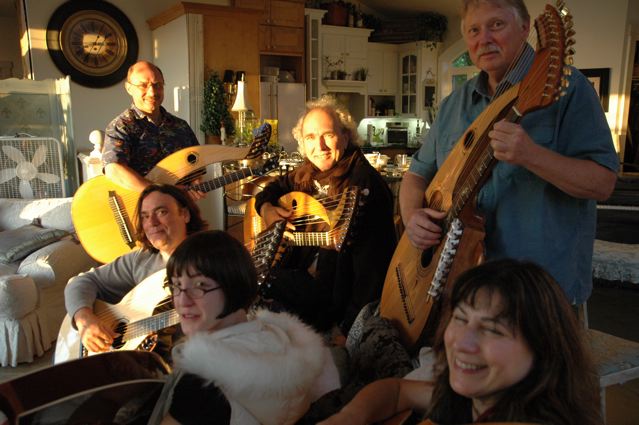 Instruction included two daily group sessions and a half hour private session. John Doan performed an evening concert on Friday and Saturday and the participants performed on Sunday evening if there is enough interest.
"Obtaining a harp guitar is the first step. The second step is to find someone to teach you the rudimentary techniques of the instrument. The third step is to establish a network of fellow players. John Doan offers his home and expertise every year to help players advance through these first three steps. I can think of no better way to begin your journey then to immerse yourself for three days at John Doan's harp guitar retreat. Personal lessons geared to your personal needs, seminar sessions where you share frustrations and gain inspiration, fellowship and jam throughout the day in a setting of nature that has few equals, these all contribute to a rejuvenating and inspirational experience that I wish more could share. The focus is the harp guitar, but really, it's all about the music."
Jerry Camp
Instruments Available
There were six harp guitars on site for use if you do not have one of your own to bring to the seminar.
These include:
Six sub-bass 1906 Gibson harp guitar
Six sub-bass 1920 Dyer harp guitar
Five sub-bass/seven super-treble 1897 knutsen harp guitar
Seven sub-bass/eight super-treble Jay Buckey harp guitar
Six sub-bass/eight super-treble Brunner's latest collapsible travel harp guitar
Six sub-bass/eight super-treble Sullivan/Elliot harp guitar.
"I had a great time at the Harp Guitar Retreat this year. This was the third time I've attended and there is always something new and exciting to explore. John and Deirdra are wonderful hosts and it is always fun to meet new students. There is always a large assortment of instruments to see and try out at your leisure. I highly recommend this retreat to anyone interested in the harp guitar or the history of the guitar in general."
Nick Vest
Location
The weekend retreat was at the home of John and Deirdra Doan, nestled near the summit of Croisan Ridge in Oregon's mid-Willamette Valley. The location was simply breathtaking which explains why Oregon is a very popular summer vacation destination. The 180 degree westerly views of green rugged forests, sprawling farmlands, and distant coastal mountains will serve as a backdrop to the morning and afternoon private and group sessions which will focus on harp guitar fingerboard and string theory, performance issues, music composition, and just having fun. All lodging and meals were on site and included with registration.
"John Doan's harp guitar retreat was all and more than I had anticipated! I learned what I needed to get started with my new harp guitar, and I had a wonderful time getting to know John and Dierdra and all my fellow students! Each class touched on specific techniques for getting around on the harp guitar, some chord theory, and a bit of sound advice on the business end of music. We each had our private session in the afternoons and John was able to switch gears to work with each of us where we were at – his energy and stamina was inspiring and very much appreciated! The setting was stunning with views of the Willamette Valley — and I got to stay in the magical music room with instruments that have been around for centuries. I hope to attend again next year!"
Verlene Schermer.
"I had a lot of fun at the retreat last weekend. It was great to learn about the Harp Guitar in a group setting as well as have some one on one time for some of the specifics. I really loved how organized everything was and the fact I had handouts to take home with me. I have plenty of things to work on now. By the way, Deidra is a great cook! Thank you for lovely weekend."
Melissa Ferrell-Young