Eire is Doan's deeply felt homage to the indomitable Irish spirit. The richly detailed production by Doan and producer Billy Oskay blends traditional pipes, whistles, horns, and fiddles with the ringing tones of the harp guitar, and celebrates of the history and people of the Emerald Isle. All the music was composed on location where the history of the Irish people happened. Doan visits sites known as "Thin Places" where it was believed that the distance from Heaven to earth was thin as well as the difference between the past, present, and future. A beautifully written twenty-page booklet accompanies the CD.
"Eire: Isle of the Saints stands today as one of the most creative, significant and polished albums of the entire genre of the progressive Celtic scene."
Stephen Hill – Music From The Hearts of Space
Eire was a real labor of love that found me writing the music for several months one summer while staying at a friends yurt home perched high on a ridge that overlooked the verdant Willamette Valley below. At the end of the summer I met a former student whose mother oversaw an organization that placed American High School Students in foreign countries. I half jokingly asked if he ever was asked to escort students to Europe and couldn't use the free ticket that came with the job to let me know. I soon got a phone call telling me that a plane was leaving in a few days in need of an escort and I could route my way to Ireland if I wanted to stay longer.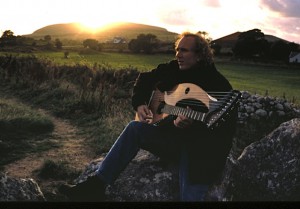 Before I knew it I was walking down gravel roads and through grassy pastures that Patrick himself had walked. At each "Thin Place" I sat down and recorded on site en plain air musical sketches that captured the dream like Celtic world that knew no limits of time nor imagination. I completely discarded all the music I had written previously where I had tried to find inspiration in books and photographs. The remarkable thing about the music I composed on location is its authenticity and waking dream quality that is hauntingly descriptive and present.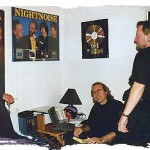 Once home in Oregon, I reviewed the music I had recorded in Ireland and set out scoring the best ideas and then sought out the guidance of Billy Oskay of Big Red Studios. Billy is the musician's musician, a consummate performer, arranger, producer and engineer. He was challenging at every turn and his remarkable intuition and insistence on excellence made this recording a masterpiece. This was no "slam it down and mix it in a few days" project but a three month ordeal that would not be finished until it was finished!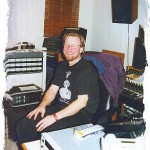 Billy knows many of the great Irish musicians after being in the group Nightnoise with Michael Ó Domhnaill, Brian Dunning, among other famed Irish musicians. He called up Eric Rigler in Los Angeles and flew him in for a couple days of sessions. He had played all the bagpipe music for the movie "Brave Heart" among other John Horner movie score projects. I had written various scores and Billy felt that few other bagpipers could read and besides Eric was an excellent improviser (check out the sound sample of Patrick in The Spirit below when Eric enters at :20). The result was nothing short of magic. The recording itself seems almost like a movie score but without the images on the screen. That has been left to the listener to imagine and be transported by.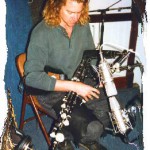 Where Horses of Faery Hide 5:38
Yeats Country (Where William Lies) 4:51

Wake (Waiting for the Dawn) 4:33
Farewell 4:01

Saint Patrick in the Spirit 4:59

The Journey Home 4:58
Sunset On Distant Castle 3:59
Tara (Hill of Kings) 5:06
The Lamentation of Turlough Ocarolan 4:07
Resting Upon Jacobs Pillow 4:15
The Old Church of Kilronan 4:18
"Critic's Choice – highly recommended listening. John Doan doesn't come from Ireland, but his new ablum, 'Eire: Isle Of The Saints,' is a nearly perfect evocation of the Celtic spirit. Doan plays many arcane stringed instruments but specializes in the harp guitar. With its hybrid strings, he laces themes that aren't Irish but sound like they could be. His intricate arrangements are further enhanced by producer Billy Oskay, the founder of Nightnoise. In addition to his violin, Oskay lavishes pipes, harps, and synthesizers on Doan's poignant melodies."
John Diliberto – Billboard Magazine
"Eire: Isle of the Saints is one of the most perfect albums of the year and a pinnacle of creation for harp-guitarist John Doan. Long a devotee of the Emerald Isles, Doan traveled the Irish countryside gathering up inspiration and often composing tunes right on the spot. He brought them back to Billy Oskay's studio in Oregon where they created intricate orchestrations with pipes, flutes, percussion and synthesizers. "St. Patrick in the Spirit," "Resting Upon Jacob's Pillow," …the list goes on, each song a polished emerald."
Echodisc
"Critics pick top album of the year – Eire: Isle of the Saints… John Doan plays a harp-guitar and from its 20 strings liberates truly enchanting Celtic music… Doan transports us to another place and time on every cut."
Philadelphia Weekly
"Anchored by the delicate and unique sound of his harp guitar, John Doan's release, Eire, Isle of the Saints , is a treat for those who like their Celtic music on the subdued side. This recording is a collection of songs that evoke thoughts of the Irish countryside for me – it's extremely visual music… Whether fast or slow, soft or celebratory, two things stand out on this recording. One is John's excellent compositional skill. All these songs are winners and the album plays through very well. Second is the high degree of musicianship by all the session players. This is ensemble playing at its finest. The overall mood of the CD is wistful and even a tad mysterious at times. Repeated listenings reveal the true worth of this recording. Like fog draped over the hills of the Green, "Eire – Isle of the Saints" swirls its music around you revealing things bit by bit through the mist. It's a hauntingly beautiful listening experience."
Bill Binkelman – Wind and Wire
"John Doan, Eire: Isle of the Saints. Conceived as a journey to the Ireland of both history and dream, this suite of original pieces is a showcase for the whole glorious, resonant range of the harp guitar. Doan's instrument percolates with hints of Irish dance fragments and rings with the resonance of the ancient metal-strung harp. At their best, Doan's Compositions adopt Irish trad shapes, scales, and moods without adhering slavishly to the genre. Read the lengthy liner notes for Doan's personal epic journey, or close your eyes and take your own."
Danny Carnahan – Acoustic Guitar
"One of the latest, and possibly one of the most inspiring of the new collections in Celtic music is Eire: Isle of the Saints by John Doan. These pieces deliver a consistently high quality and caliber .. and are as solid musically as they are historically. It is full of an evocative energy that transports the listener back, way back, to a very ancient Eire. Doan is a master of the rare twenty stringed harp guitar. This eloquent, haunting, and richly detailed production carries a wistfulness that allows the imagination to develop fanciful scenes. Eire: Isle of the Saints is a luscious gift of music from the heart of a man on a personal odyssey. It is a journey that takes along the Celtic spirit in us all."
Virginia Graham Terhaar – Brigits Feast: A Celtic Journal
"Eminent Music historian John Doan's most recent CD, both a cultural and personal portrait,.. explores the range of the harp-guitar and personal visions as he musically reflects on his journey and experiences in Ireland: Doan is the Odysseus, wandering on a sea of Irish green and following dreams of O'Carolan's siren song. The music itself is largely contemplative and departs at times from a more traditional Celtic sound; the listener is advised to read the beautifully written liner notes to better understand Doan's impressionistic compositions and some of Ireland's history as well. Sometimes pensive, sometimes vivacious, Eire: Isle of the Saints is a unique and striking glimpse into the heart of a man and the history of a culture."
The Daily Digital Opinion
"The harp is widely associated with Irish music, but the harp guitar? Thanks to the latest release by John Doan, we may see that come about. It has a deep resonance and clarity reminiscent of wire-strung harps… Wonderful liner notes by Doan bring to life his sources of inspiration through stories of his travels and illuminating quotations ranging from Druid prophecies to inscriptions on graves. The music itself is sublime — you will mourn the fact that Doan is not a more prolific recorder. The pieces are complex and beautifully-structured… and there is a more expansive exploration of Celtic motifs, and the result is quite beautiful and heartfelt. Hopefully, this CD will expose Doan to a much-deserved wider audience. Highly recommended."
Kathy Barnard – Branches Reviews
"… it takes only a moment of hearing him play the 20-string harp-guitar to realize that he must have a bit of the Irish in him somewhere. The music is compelling, mystical and as ancient as the instruments it features. Eire… is pure, simple magic… if your cup of tea is a night spent staring at the old country, with its music surrounding you, don't miss this."
The Davis Enterprise/Winters Express
"A purely gorgeous piece of work… combines elements of tranquility with ringing Celtic themes and passages that act to sweep the listener off into Irish fantasy and mythological dreams. It sounds both familiar and unique."
All Music Guide
John Doan Music
If you like this album, why not add another John Doan album to your collection:
John Doan offers Sheet Music for guitar and harp guitar for many of his albums.
DVDs with John Doan
The following DVDs are available for sale featuring John Doan.