Eire is Doan's deeply felt homage to the indomitable Irish spirit. The richly detailed production by Doan and producer Billy Oskay blends traditional pipes, whistles, horns, and fiddles with the ringing tones of the harp guitar, and celebrates of the history and people of the Emerald Isle. All the music was composed on location where the history of the Irish people happened. Doan visits sites known as "Thin Places" where it was believed that the distance from Heaven to earth was thin as well as the difference between the past, present, and future. A beautifully written twenty-page booklet accompanies the CD.
"Eire: Isle of the Saints stands today as one of the most creative, significant and polished albums of the entire genre of the progressive Celtic scene."
Stephen Hill – Music From The Hearts of Space
Eire was a real labor of love that found me writing the music for several months one summer while staying at a friends yurt home perched high on a ridge that overlooked the verdant Willamette Valley below. At the end of the summer I met a former student whose mother oversaw an organization that placed American High School Students in foreign countries. I half jokingly asked if he ever was asked to escort students to Europe and couldn't use the free ticket that came with the job to let me know. I soon got a phone call telling me that a plane was leaving in a few days in need of an escort and I could route my way to Ireland if I wanted to stay longer.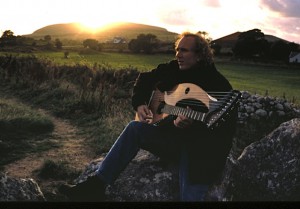 Before I knew it I was walking down gravel roads and through grassy pastures that Patrick himself had walked. At each "Thin Place" I sat down and recorded on site en plain air musical sketches that captured the dream like Celtic world that knew no limits of time nor imagination. I completely discarded all the music I had written previously where I had tried to find inspiration in books and photographs. The remarkable thing about the music I composed on location is its authenticity and waking dream quality that is hauntingly descriptive and present.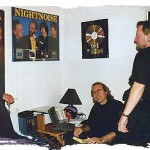 Once home in Oregon, I reviewed the music I had recorded in Ireland and set out scoring the best ideas and then sought out the guidance of Billy Oskay of Big Red Studios. Billy is the musician's musician, a consummate performer, arranger, producer and engineer. He was challenging at every turn and his remarkable intuition and insistence on excellence made this recording a masterpiece. This was no "slam it down and mix it in a few days" project but a three month ordeal that would not be finished until it was finished!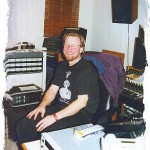 Billy knows many of the great Irish musicians after being in the group Nightnoise with Michael Ó Domhnaill, Brian Dunning, among other famed Irish musicians. He called up Eric Rigler in Los Angeles and flew him in for a couple days of sessions. He had played all the bagpipe music for the movie "Brave Heart" among other John Horner movie score projects. I had written various scores and Billy felt that few other bagpipers could read and besides Eric was an excellent improviser (check out the sound sample of Patrick in The Spirit below when Eric enters at :20). The result was nothing short of magic. The recording itself seems almost like a movie score but without the images on the screen. That has been left to the listener to imagine and be transported by.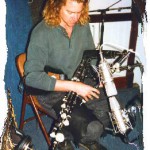 Where Horses of Faery Hide 5:38
Yeats Country (Where William Lies) 4:51
Wake (Waiting for the Dawn) 4:33
Farewell 4:01
Saint Patrick in the Spirit 4:59
The Journey Home 4:58
Sunset On Distant Castle 3:59
Tara (Hill of Kings) 5:06
The Lamentation of Turlough Ocarolan 4:07
Resting Upon Jacobs Pillow 4:15
The Old Church of Kilronan 4:18
"Critic's Choice – highly recommended listening. John Doan doesn't come from Ireland, but his new ablum, 'Eire: Isle Of The Saints,' is a nearly perfect evocation of the Celtic spirit. Doan plays many arcane stringed instruments but specializes in the harp guitar. With its hybrid strings, he laces themes that aren't Irish but sound like they could be. His intricate arrangements are further enhanced by producer Billy Oskay, the founder of Nightnoise. In addition to his violin, Oskay lavishes pipes, harps, and synthesizers on Doan's poignant melodies."
John Diliberto – Billboard Magazine
"Eire: Isle of the Saints is one of the most perfect albums of the year and a pinnacle of creation for harp-guitarist John Doan. Long a devotee of the Emerald Isles, Doan traveled the Irish countryside gathering up inspiration and often composing tunes right on the spot. He brought them back to Billy Oskay's studio in Oregon where they created intricate orchestrations with pipes, flutes, percussion and synthesizers. "St. Patrick in the Spirit," "Resting Upon Jacob's Pillow," …the list goes on, each song a polished emerald."
Echodisc
"Critics pick top album of the year – Eire: Isle of the Saints… John Doan plays a harp-guitar and from its 20 strings liberates truly enchanting Celtic music… Doan transports us to another place and time on every cut."
Philadelphia Weekly
"Anchored by the delicate and unique sound of his harp guitar, John Doan's release, Eire, Isle of the Saints , is a treat for those who like their Celtic music on the subdued side. This recording is a collection of songs that evoke thoughts of the Irish countryside for me – it's extremely visual music… Whether fast or slow, soft or celebratory, two things stand out on this recording. One is John's excellent compositional skill. All these songs are winners and the album plays through very well. Second is the high degree of musicianship by all the session players. This is ensemble playing at its finest. The overall mood of the CD is wistful and even a tad mysterious at times. Repeated listenings reveal the true worth of this recording. Like fog draped over the hills of the Green, "Eire – Isle of the Saints" swirls its music around you revealing things bit by bit through the mist. It's a hauntingly beautiful listening experience."
Bill Binkelman – Wind and Wire
"John Doan, Eire: Isle of the Saints. Conceived as a journey to the Ireland of both history and dream, this suite of original pieces is a showcase for the whole glorious, resonant range of the harp guitar. Doan's instrument percolates with hints of Irish dance fragments and rings with the resonance of the ancient metal-strung harp. At their best, Doan's Compositions adopt Irish trad shapes, scales, and moods without adhering slavishly to the genre. Read the lengthy liner notes for Doan's personal epic journey, or close your eyes and take your own."
Danny Carnahan – Acoustic Guitar
"One of the latest, and possibly one of the most inspiring of the new collections in Celtic music is Eire: Isle of the Saints by John Doan. These pieces deliver a consistently high quality and caliber .. and are as solid musically as they are historically. It is full of an evocative energy that transports the listener back, way back, to a very ancient Eire. Doan is a master of the rare twenty stringed harp guitar. This eloquent, haunting, and richly detailed production carries a wistfulness that allows the imagination to develop fanciful scenes. Eire: Isle of the Saints is a luscious gift of music from the heart of a man on a personal odyssey. It is a journey that takes along the Celtic spirit in us all."
Virginia Graham Terhaar – Brigits Feast: A Celtic Journal
"Eminent Music historian John Doan's most recent CD, both a cultural and personal portrait,.. explores the range of the harp-guitar and personal visions as he musically reflects on his journey and experiences in Ireland: Doan is the Odysseus, wandering on a sea of Irish green and following dreams of O'Carolan's siren song. The music itself is largely contemplative and departs at times from a more traditional Celtic sound; the listener is advised to read the beautifully written liner notes to better understand Doan's impressionistic compositions and some of Ireland's history as well. Sometimes pensive, sometimes vivacious, Eire: Isle of the Saints is a unique and striking glimpse into the heart of a man and the history of a culture."
The Daily Digital Opinion
"The harp is widely associated with Irish music, but the harp guitar? Thanks to the latest release by John Doan, we may see that come about. It has a deep resonance and clarity reminiscent of wire-strung harps… Wonderful liner notes by Doan bring to life his sources of inspiration through stories of his travels and illuminating quotations ranging from Druid prophecies to inscriptions on graves. The music itself is sublime — you will mourn the fact that Doan is not a more prolific recorder. The pieces are complex and beautifully-structured… and there is a more expansive exploration of Celtic motifs, and the result is quite beautiful and heartfelt. Hopefully, this CD will expose Doan to a much-deserved wider audience. Highly recommended."
Kathy Barnard – Branches Reviews
"… it takes only a moment of hearing him play the 20-string harp-guitar to realize that he must have a bit of the Irish in him somewhere. The music is compelling, mystical and as ancient as the instruments it features. Eire… is pure, simple magic… if your cup of tea is a night spent staring at the old country, with its music surrounding you, don't miss this."
The Davis Enterprise/Winters Express
"A purely gorgeous piece of work… combines elements of tranquility with ringing Celtic themes and passages that act to sweep the listener off into Irish fantasy and mythological dreams. It sounds both familiar and unique."
All Music Guide
EIRE – ISLE OF THE SAINTS (Liner Notes)
" … if we are to be saved, it will not be by Romans but by saints." THOMAS CAHILL
Eire is a land where the past still lives and myth and mystery reign.  Many old Irish ways and traditions have remained unchanged for a thousand years.  To this day, the Irish think of their homeland as Erie (Eh reh), the ancient Gaelic name for all of Ireland.  Its long heritage is one of tradition and history, custom and religion.  After the collapse of Rome in the fifth century, Europe's dark ages sent monks and scholars into retreat at the edge of the known world and brought Eire fame as the "Isle of the Saints."  What is known of these ancient times comes to us in the twilight between history and legend.
I have thrown my whole self into this work trying to recreate a flavor that lingers from a lost age so that it can be experienced once again.   This recording came into being as I journeyed down narrow winding roads where worn stones were like silent signposts to the past.  It is my hope that this music along with these notes will help the listener to broaden their understanding of some of the elements that comprise the Irish mystic.
I have tried to chronicle the life of PATRICK from slave to saint, describing moments that shaped his character and the lives of those around him. TURLOUGH O'CAROLAN is another who grows more human in our minds when we venture past the pleasant aires and planxties we tend to remember him for, and place him at a time of Eire's darkest days, when harps were broken in the streets to smash the pride of the Irish people. YEATS as well may take on a new dimension, not only as a writer inspired by ancient bardic, but as a person who had become embittered with the limitations of his mortality.
Eire: Isle of the Saints reminds me of our ancestry, ancient tales of joy and sorrow, the smell of a peat fire, and the purple of the heather bogs, as well as the courage and holiness of the saints of old.  It is my conviction that all of us, Celtic or not, feel Eire's passions and trust its truths.  This is our story – a journey into the trials and celebrations of the human spirit, the mystery of living, the temporalness and the wonder of it all.
 WHERE HORSES OF FAERY HIDE
"The stories were told me, sometimes in Gaelic, sometimes in English.  I heard them by peat fires in cottages, I heard them in brown-sailed fishing boats and on rocky mountain sides.  They are intertwined in my memory with sunshine, fragrant air and with wide empty spaces, with lakes in Donegal, where the horses of Faery are said to hide themselves, the pools in Connemara, with glittering bays along the sea coast, high mountains in Kerry." ELLA YOUNG (1867-1956) – CELTIC SCHOLAR AND COLLECTOR OF STORIES
While driving in Donegal I saw a lake surrounded by a field of purple heather.  It's beauty beckoned, and I pulled off the narrow grey pavement to walk close enough to touch it or, more likely, to be touched by it.  With each step, I felt as if I were walking inside Yeat's poem "The Lake Isle of Innisfree," becoming mesmerized by the low sounds of the lapping water and the sparkle of the ripples picking up a whisper of wind.  As the daylight faded into the openings of distant canyons, amongst the crickets song and whir of linnet's wings, I felt the rhythm of imagined horses galloping past.  Could they be the spirits of the mythical horses of Faery brought here from the Mideast by the Tuatha De Danaan tribe thousands of years ago?
Legend has it that the tribe was defeated by Eire's final conquerors, the sons of Mil, during the heroic age of warrior kings. The peace agreement awarded the sons of Mil the upper earth, while the De Danann received the lower reaches of the earth and sea. The inhabitants of the lower reaches later became known as fairies, or Sidhe, and were believed to live in subterranean palaces that glittered with rare jewels embedded in walls of pure gold.  The Faery host are said to ride out from time to time from beneath the ground on horseback, sometimes in full regalia, announcing themselves with regal horns.  Perhaps they were riding this evening, emerging from the place where horses of faery hide.
 YEATS COUNTRY – Where William Lies

"Under bare Ben Bulben's head,

In Drumcliffe churchyard Yeat's is laid.

An ancestor was rector there,

Long years ago, a church stands near,

By the road an ancient cross.

No marble, no conventional phrase;

On limestone quarried near the spot

By his command these words are cut:

Cast a cold eye

On life, on death.

Horseman, pass by!"

W.B. YEATS
So ends Yeats's last poem, Under Ben Bulben  (the square top mountain overlooking Drumcliff).  Although most of his work can be purchased from the merchants of Sligo, his bitter last words are etched into his gravestone for visitors to ponder as they pass by. They furnish "no conventional phrase" for the poet who led the Irish literary movement in his lifetime and is today honored as one of the twentieth century's great poets.
William Butler Yeats (1865-1939) drew much of his early inspiration from ancient bardic texts and the folklore tradition of the Shanachie (Gaelic for storyteller).  Fulfilling St. Patrick's plea to his flock to write down their own tales in their own language, Yeats joined his own rhymes and meters to the magical world that surrounded him to become known in "Yeats Country" (County Sligo) as a popular "saint" of the written word.
As a boy, While visiting his grandparents at their rectory in Drumcliff, Yeat's imagination must have been captivated by the ruins of the monastery of Eire's warrior priest St. Columba, and by an imposing 11th century cross chiseled with inspired scenes of faith and hope from the ancient book of Scriptures.  In sharp contrast Yeats' monument seems small and filled with despair. It came to me that his last words envisioned the nearing of our world's end as the Nazi's invade France, a fulfillment of the scriptures of the Four Horsemen of the Apocalypse, as if saying, "if you see the Horsemen pass by, it is all over."
Before the cold and darkness urged me away from the gravesite, I hoped that William would not mind a prayer from a passerby.  My imagination glimpsed a tender man who once visited here, remembering fondly the warm summer days with his grandparents, and the lilting music of the fiddle and whistle in the evenings.  As I left the churchyard I noticed bare Ben Bulben's head aglow with the last rays of Celtic twilight as if hopefully looking up and over "Yeats country where William Lies.
 WAKE – Waiting for the Dawn
"A foreign way of life was about to come, a kingdom, as it were, with a strange and troublesome teaching, brought from afar over the seas. A few would proclaim it; many would accept it; all would honor it; it would overthrow kingdoms; kill the kings who resisted; subvert the common people; and destroy all their gods; banish all the works of their craft, and reign forever." MACTHENI, SECOND HALF OF 7TH CENTURY
Where once an ancient oak grove stood, outdoor temple to druid priests, now stands a ring of trees encircling a humble church appearing to kneel beside the Hill of Tara for whom her bells knell. While staying at Mrs. Maguire's Bed and Breakfast that lies just beneath the hill, I awoke in the night unable to return to sleep.  I imagined that it was late in the evening when druid priests tossed dry and withered oak branches onto a fire, kindling a vision in the poetry of their minds.
In the early fifth century, Laoghaire, the high King of Eire and son of Niall, resided here.  The king surrounded himself with druids (drys the Greek for oak tree), fortune-tellers, and sorcerers and relied on their visions and powers of prophesy.  His two favorite priests were Lochru, and Lucet Mael.  Through their magical art and secret knowledge of the natural and supernatural world, they  foretold the coming of a greater order that would arise and overshadow theirs.  Seemingly unattached to their teachings and traditions, the Druid priests used their expectation of their own demise as an opportunity for reflection and  bonfire-lit celebrations.
Perhaps this concern for spiritual rather than material things, for the eternal rather than the ephemeral, is the origin of the steadfast faith that has made the Irish a strong power in the Christian world.  Their indifference to death and quest to live life fully bestows upon them an untamed and heroic nature.  King Laoghaire son of Niall, whose family had reigned for five hundred years, was too proud to entertain the end of such a legacy.  Enslaved by self importance, property, and power, he was unhappy with the visions of his priests, who saw that the night was far spent and a new day was at hand.
FAREWELL
"After I had arrived in Erie, I found myself pasturing flocks daily, and I prayed a number of times each day.  More and more the love and fear of God came to me, and faith grew and my spirit was exercised, until I was praying up to a hundred times every day – and in the night nearly as often.  So that I would even remain in the woods and on the mountain in snow, frost, and rain, waking to pray before first light.  And I felt no ill effect, nor was I in any way sluggish – because, as I now realize, the Spirit was seething within me." ST. PATRICK (FROM HIS CONFESSION)
After climbing to a vista on the wind-wiped rocks above Killala Bay, County Mayo, I looked out at fields, bogs, and lines of stone that stretched out in the distance below.  I wondered if this could be the setting of that gentle surrender a young Patrick made as a boy while withstanding the fierce winds of the spirit.
Crisscrossing the countryside throughout the British Isles are the remains of walls and massive strongholds built to hold back invaders from the sea.  In the early fifth century, Roman troops abandoned the island of Britain, the farthest outpost of their empire, leaving it vulnerable to raids from the Saxons, Angles (who gave their name to England), and the Celts of Eire.  There, in the fortified town of Banna Venta Berniae (probably near Carlisle) lived a young boy Patricius, his father Calpornius, and his grandfather Potitus, a Catholic priest.  In the year 401 AD, at the age of sixteen, Patricius was captured and hauled as slave cargo across the Irish Sea, where he was purchased by a petty Chieftain named Miliucc, ruler of some hills on this western shore in County Mayo.  The enslaved boy worked as a shepard for six years in quiet isolation, exposed to the harshness of the natural world, while pondering the one that laid just beyond.  During this time, to his family, his youth, and his hope of worldly gain, he bid farewell.
 ST. PATRICK IN THE SPIRIT – On the Way To Confront King Laoghaire
"Crist lim, Crist rium

Crist imdegaid, Crist innium

Crist issum, Crist uasum

Crist dessum, Crist tuathum

Crist illius, Crist issius, Crist inerus

Crist icridiu cechduine immimrorda

Crist ingin cechoen rodomlabrathar

Crist incechrusc nomdercaedar

Crist incechcluais rodamcloathar."

(Ireland's earilest piece of literature in ancient Gaelic)

"Christ with me, Christ before me,

Christ behind me, Christ in me,

Christ below me, Christ above me,

Christ at my right, Christ at my left,

Christ in breadth, Christ in length, Christ in height

Christ in the heart of everyone who thinks of me,

Christ in the mouth of everyone who speaks to me

Christ in every eye that sees me

Christ in every ear that hears me." ST. PATRICK (KNOWN AS "CRY OF THE DEER" AND ST. PATRICK'S BREASTPLATE"
Beltaine, the first day of spring, was the day that Sacred Kings paid homage to the presiding divinity of Tara, the pagan goddess Medb Lethderg (meaning intoxication).  In the year AD 433 great festivities were anticipated as usual, with Maypole dancing, copious quantities of mead, and a bonfire to be lit by High King Loaghaire himself. Custom proclaimed for this day that, "whoever in all the country, far or near, should kindle a fire before the fire in the king's house was lit should be put to death by his people."
On the same night on the hill of Slain, Patrick, sparked by the Holy Spirit, began his ministry to the Irish people by kindling a fire of faith in commemoration of Easter. The King immediately dispatched his guard in their chariots after the Druid Priests, Lucet Mael and Lochru reminded him of an ancient prophecy stating that, "unless it is extinguished on this same night in which it was lit, it will not be put out forever."  Miraculously, the King's guard saw only a herd of deer as Patrick and his followers courageously marched past chanting the hymn above as their sole defense.
Although the king would not concede in the ensuing battle of the spirit, Patrick soon discovered that his "warrior children," including the Druid priests, were seekers of the truth, and many of them received teachings with the same zeal they had shown in fierce battles or blood feuds.  Faith, hope, and charity came in the wake of Patrick in the Spirit.
THE JOURNEY HOME
"… one night, in my sleep, I heard a voice saying to me: "It is good that you fast, who will go soon to your homeland.  And again, after a short space of time I heard this pronouncement: "Look! Your ship is ready." ST. PATRICK (FROM HIS CONFESSION
After hearing these words in a dream, Patrick awoke and hiked away from the rugged hillside pastures where he had tended his owner's sheep for six years and began a new life as visionary and holy man.  He "travelled with the aid of God's power" for two hundred miles through unknown lands, undetected as a run-away slave.
At a inlet to the sea on the east side of the island somewhere near Wexford, he approached a ship's crew, but angered the captain by refusing to participate in their pagan initiation rite. "I refused, for fear of God, to suck their nipples.  Nevertheless I hoped that some of them would come to faith in Jesus Christ." Patrick turned his back to them and began to pray as he walked away. "Before the prayer was finished, I heard one of them, who shouted loudly after me: 'Come quickly; these men are calling you.'"
After several years of wandering and performing miracles, he made his way back to his family in Britain. He was warmly welcomed, but he soon had a vision in which a man from Eire delivered a letter with the message, "The Voice of the Irish…They cried out, as with one voice, 'We Appeal to you, Holy servant boy, to come and walk among us.'" When Patrick realized that this inner voice was guidance from Christ, he willingly returned to Eire to tend the flock of his new Master.  And so began the true journey home.
SUNSET ON DISTANT CASTLE – Lament to Slaves and Their Captors
"dogs and purveyors of evil and murderers, and liars and false swearers … who have distributed baptized girls as prizes, for the sake of a wretched worldly kingdom which will pass away in an instant…  like mere mist or smoke which is dispersed by the wind." ST. PATRICK (FROM HIS LETTER AGAINST THE SOLDIERS OF COROTICUS)
Just as Irish raiders (then called Scotti) had looted the coast of Britain, kidnapping and enslaving captives at the time of Patrick's boyhood, the petty kings of Britain latter took retribution with their own raids on Irish coastal villages.  Bishop Patrick attributed the Irish actions to the fact that they were "heathens." But he expected the "more civilized" Romanized British Celts to behave according to Christian principles. In angry protest, Patrick sent a delegation of clerics to Britain to request the immediate return of the baptized captives. The British responded by "laughing aloud," stating that the Irish Christians were neither full-fledged Christians nor complete human beings because they were not Roman.  Patrick lamented for both the captives and their corrupt abductors. A former slave himself, he was the first great voice in history to speak out against slavery. He would be the last for the next twelve hundred years.
While visiting the west coast of what is now Scotland, I stopped to view the ruins of the ancient fortres.  I wondered if this was where the petty king Coroticus retreated after his raids.  I had the distinct feeling of standing on the other side of time from Patrick, seeing his curse of a "wretched worldly kingdom which will pass away" fulfilled.  What once stood proud and secure was now reduced to piles of worn stones.  I composed this piece late in the day as the sun, low in the sky, thrust its radiant sabers through openings in the clouds only to dissolve in the fine salt mist.  This is how I saw the sunset on distant castle – a lament to slaves and their captors.
TARA – Hill of Kings 
"The strong fortress of Tara has perished

with the death of her princes;

with its quires of sages,

great Armagh lives on."

CALENDAR OF THE SAINTS, CIRCA A.D. 800
On the Road from Dublin to Navan one could pass almost unnoticed a hill whose sign bears the simple legend "Teamhair – Tara." The road trails up and over a slopping field and back in time and history.  Tara is an almost mythical place, a plateau rising from green rolling hills, crowning the impressive plains of Meath.   Like an enormous stage, the land of Tara was the setting of great drama, with casts of generations and scenes of sacred rituals, coronations, lavish banquets, and great battles of the sword and the spirit.
In 433 A.D. St. Patrick confronted Eire's High King Loaghaire on this hill, and his ultimate victory began a shift in Ireland's spiritual center from Tara to Armagh.  By the sixth century, the spread of Christianity had led to Tara's decline as a pagan sacred site, and the plateau was completely abandoned by the High King Mealsheachlainn in A. D. 1022.  However, for centuries Tara continued to be a symbol of Ireland's ancient glory.
All of this coursed through my mind as the majestic sunset darkened like the end of a scene in a continuous saga whose script had just covered up the hushed pages of a legendary past, making its story even more distant and secret.  It was in the growing shadows of evening that I imagined King Loaghaire standing over Patrick, sparing the Saint's life, and recalled how on this very ground Patrick retorted that his eternal life was not the King's to take away. Patrick, on the contrary, offered the King a new life if he would soften his heart and forgive his enemies.  The King, consummate earthly warrior, remained true to his ways. At his request he was buried here, standing upright in his breastplate of armor with sward outstretched above his head, facing south as if still fighting the Leinstermen.
Like this ancient warrior, the stronghold Tara once had thriving and vital features carved into its earthen face. Now, all that remains are aged, nearly featureless mounds, like empty boasts of battles long forgotten. If a visitor sits quietly and long enough, the lingering wail of bagpipes and tin whistles can be faintly heard in the ever-present wind. Sudden violent gusts evoke the sound of weathered hands pounding upon ancient sheep-skin drums.
As night consumed the light, I walked down the hill imagining a proud anthem, a tribute to all the Irish who have come and gone away from Tara – Hill of Kings.
THE LAMENTATION OF TURLOUCH O'CAROLAN- "Our Great Solace In Our Great Need"
Turlough O' Carolan

Harper, Composer, Poet, Singer

"Our Great Solace in Our Great Need"

Born Nobber 1670 Died Alderford 1738 RIP

(ON HIS GRAVE WITHIN THE OLD CHURCH OF KILRONAN)
Eire is known throughout the world for the tragedy of its history. After Saint Patrick's arrival in AD 432, music, poetry, and scholarship flourished in Eire's Golden Age. But this artistic age ended when Scandinavian invaders arrived in the late 700's.  Politically and religiously, the Irish people were always able to adapt to their conquerors until the persecution of faith that Patrick prophesied became reality.
In the 1500s, Henry VIII declared himself the head of the English Church and set out to break Irish resistance by destroying monasteries and killing those who opposed his authority. But the Irish remained true to Patrick's teaching, continuing to rebel until Cromwell's army defeated Commander Owen Roe O'Neill's Ulster army of Confederates in 1649. The years that followed were Eire's darkest. The new order considered harps to be  "subversive instruments" and as symbols of Irish nationalism, they were broken in public displays.  It was during these times that Turlough O' Carolan, a Catholic, was born.
As a young man, O'Carolan was blinded by smallpox.  Through the generosity of his father's employer, Mrs. MacDermott Roe, Turlough began to study the harp.  He became a itinerant harper, visiting the homes of both Catholics and Protestants, Irish and English. Fair-minded and tolerant, he responded compassionately to people's common humanity rather than to their differences. Deeply saddened by events of 1690 – defeat in the Battle of the Boyne near Tara, and the siege of Limerick – he  composed  "The Lamentation of Owen O'Neill."  I believe that this was his way of weeping for and consoling the whole of Irish people, and is this lament I quote in my composition "The Lamentation of Turlough O'Carolan."
RESTING UPON JACOB'S PILLOW
"When Jacob reached a certain place, he stopped for the night because the sun had set.  Taking one of the stones there, he put it under his head and lay down to sleep.  He had a dream in which he saw a stairway resting on the earth, with its top reaching to heaven, and the angels of God were ascending and descending on it.  Early the next morning Jacob took the stone he had placed under his head and set it up as a pillar and poured oil on top of it… then Jacob said, 'this stone that I have set up as a pillar will be God's house." GENESIS 28:11,18, AND 22
Into the quiet of pre-dawn I walked through the fog blanketing the ancient mounds of Tara to the site where, according to legend, Jacob's Pillow lies.  The stone, generally known as Lia Fail, the Stone of Destiny, and the Coronation Stone, is believed by local people to have origins that go deep into antiquity. Legends tell of an early people called Tuatha De Danaan who wandered through many lands gathering treasures from their conquests, eventually arriving at Tara.  Followers of the Goddess Danu, they attached their name to various sites along the way, including the Blue Danube River.
One of their treasures was the Lia Fail stone, which was said to scream when a rightful king placed his foot on it. Early in the sixth century, the High King of Eire, Muirchetach I, sent the stone to Dunstaffnage Castle in Scotland for safekeeping. It was later moved to Scone where it was captured by Edward I, who brought it to Westminster Abby in London. The stone has been used in the coronation of English monarchs ever since.
The Irish have a different version of the legend, in which the stone was switched in Scotland and the authentic one returned to Tara.  In the nineteenth century, the hills around Tara were excavated in hopes of finding De Dannan treasures. Some believed that they brought with them the missing Arc of the Covenant.  Perhaps, by association, they concluded that the Liath Fail was the ordained Jacob's Pillow stone.  I walked to that stone at sunrise and rested my head upon it as the first rays of light dissolved the night sky.  It came to me that Jacob's vow, "this stone I set up as a pillar will be God's house" was fulfilled the night Patrick claimed Tara for his God.  It was then that I heard this music while resting upon Jacob's Pillow.
THE OLD CHURCH OF KILRONAN – Where O'Carolan Gazes Up At The Moon
"Within this Church yard

Lies interred Carolan

The last of the Irish Bards"

AT THE ENTRANCE TO THE CHURCH YARD OF KILRONAN
The role of Irish Bard – which began as a priestly guild, advisors to tribal chiefs and seers of things to come – the role of Irish Bard came to rest at a small churchyard just outside the quiet hamlet of Alderford. Turlough O'Carolan's grave lies within the walls of the old church of Kilronan. With the oak beams and slate pilings gone, the remains of Eire's greatest "saint" of music now have an unobstructed view of the firmament of stars. An occasional beam of moonlight, which ancient bards regarded as a "guide for the soul," shines on the simple stone marker. Builders of bridges between past and present, the Bards wove together histories and chronicles of their own times. If O'Carolan was truly the last of this legacy, perhaps a remnant of this noble tradition lingers amongst the oak leaves that gently stir atop his gravestone.  As I walked about Alderford one clear summer evening, I began thinking how the light of a star travels to us for many years from a silent, distant place.  I began to think how wonderful it would be if a song or two played 300 years ago by the master himself could have had wafted up into the cosmos, bounced off a distant celestial body, and returned to earth this very evening while O'Carolan gazes up at the moon.
 PERFORMANCES BY
WHERE HORSES OF FAERY HIDE: John Doan – harp guitar; Jim Chapman – whistle; Tarik Banzi – Darbuka;  Gregg Williams – cymbal wash, egg shakers, and goat's toenails; Billy Oskay and Cal Scott – Keyboards.
YEATS COUNTRY: Where William Lies: John Doan – harp guitar; Jim Chapman – whistle;  Randal Bays – Celtic guitar; Billy Oskay – violin and fiddle;  Sandin Wilson – Fretless bass;  Gregg Williams – cymbals.
WAKE: Waiting For The Dawn: John Doan – harp guitar;  Billy Oskay – fiddles;  Randal Bays – Celtic guitar;  Karl Blume, Terry Ross, Gregory Potter, and Blake Applegate – vocals;  Bob Stark – keyboards and sound design.
FAREWELL: John Doan – harp guitar; Billy Oskay – violin and keyboards.
PATRICK IN THE SPIRIT: On the Way To Confront King Loaghaire: John Doan – harp guitar;  Jim Chapman – whistle;  Eric Rigler – uilleann pipes;  Billy Oskay – fiddle;  Randal Bays – Celtic guitar;  Karl Blume, Terry Ross, Gregory Potter, and Blake Applegate – vocals;  Cal Scott – keyboards and midi percussion.
THE JOURNEY HOME: John Doan – harp guitar; Billy Oskay – violin and keyboards; Robert  O'Hearn – keyboards.
SUNSET ON DISTANT CASTLE: Lament to Slaves and Their Captors: John Doan – harp guitar; Dagny Regan – English horn;  Gregg Williams – cymbals; Billy Oskay and Bob Stark – keyboards.
TARA: Hill of Kings: Eric Rigler – The Great Highland Bagpipe, Scottish small-pipes, and uilleann pipes; Billy Oskay – harmonium and violins;  John Doan – harp guitar; Jim Chapman – whistle;  Randal Bays – Celtic guitar;  Karl Blume, Terry Ross, Gregory Potter, Blake Applegate, Deirdra Doan, and Eden Davis – vocals;  Cal Scott – percussion and keyboards.
THE LAMENTATION OF TURLOUCH O'CAROLAN:"Our Great Solace In Our Great Need": John Doan – harp guitar; Billy Oskay – viola; Maureen Love – concert harp; Gregg Williams – cymbals; Cal Scott – keyboards
RESTING UPON JACOB'S PILLOW: John Doan – harp guitar; Jim Chapman – whistles;  Gregg Williams – cymbals; Billy Oskay – Keyboards.
THE OLD CHURCH OF KILRONAN: Where O'Carolan Gaves Up At the Moon: John Doan – harp guitar; Maureen Love – concert harp; Dagny Regan – English horn;  Billy Oskay – violin, viola and keyboards; Cal Scott – Keyboards.
ABOUT THE ARTIST
John Doan lives in the Oregon and is no stranger to green landscapes and gentle mists. He is a rare virtuoso of the twenty-string harp guitar and an assortment of other instruments from Europe and America's past. John has combined his love of history and the tradition of music making at home to create Oregon Public Broadcasting's television specials A Christmas To Remember With John Doan (as seen on PBS) and the Emmy-nominated A Victorian Christmas With John Doan.  His previous recordings include Departures (Narada Records), Remembrance – Melodies From a Forgotten Era (Tapestry Productions), and Wrapped In White – Visions of Christmas Past (Hearts of Space).   John is on the faculty at Willamette University in Salem. For updates on John's touring and other creative projects go to www.johndoan.com.
THE HARP GUITAR
The Harp guitar used on this recording was made by John Sullivan with Jeffrey Elliott, Portland, Oregon 1986. It is the first harp guitar made in modern times and has been copied by scores of luthiers around the world (plans are available at www.gal.com).  Instruments like the harp guitar have been played for over a thousand years. A similar instrument called the poliphont was the favorite of Queen Elizabeth in the sixteenth century and the twenty-one string harpolyre (1829) was played by Fernando Sor – "Father of the Classical Guitar" (John has recorded this music on an original instrument on his CD "The Lost Music of Fernando Sor"). Although popular in Europe over a century ago, John's harp guitar was patterned after America's first, patented in Port Townsend, Washington in the 1890's.  It has six fretted standard guitar strings in the middle, eight unfretted super-treble strings, and seven unfretted sub-bass strings.  The "John Doan Signature Model" is now being constructed in Ukraine by Jay Buckey Music.  
ABOUT THE INSTRUMENTS
The following are brief descriptions of some instruments heard on this recording.
English horn: by Loree (B series), Paris, France 1950
Grenadila wood/Blackwood from Africa. Oddly, it is neither English nor a horn.
Fiddle: Paganini model, a common fiddle mass produced in the mid-nineteenth century.  Billy's violin was made by his father – William F. Oskay, Port Ewen, New York, (violin 1964 and viola 1961). Minstrels have played the fydel from medieval times to accompany rustic dance and song as well as just to pass the time (to fiddle around).
Harmonium: by the Estey Company, 1900, Brattboro, Vermont
A small portable reed organ often used by missionaries to accompany the singing of hymns. It is pumped with the feet while the volume is adjusted with a lever operated with the knees.
Harp: A Gold Concert harp – style 2 (47 strings and 7 pedals – an innovation from France a century and a half ago) by Lyon & Healy, Chicago, Illinois 1972. The harp is the most ancient of instruments.  It is the symbol of the Irish renaissance and now its national emblem.  Found on coins, stamps and bank notes the harp in Ireland holds the place held by the piano in other countries.
Scottish small-pipes: by Hamish Moore – Perth, Scotland 1992. A 1700's hybrid of the great highland bagpipe developed to play indoors to play with fiddles by the fireside.
uilleann pipes: by Alain Froment – Kenmare, County Kerry, Ireland 1991.  It is the most sophisticated bagpipe in the world. It was developed in the early 1700's as an instrument with more range and expressiveness to suit popular continental tastes.
The Great Highland Bagpipe: by Peter Henderson, Glasgow, Scotland 1906. The grandfather of all pipes, Known in Ireland as "war pipes" are notorious for their sheer power. They were originally used for festive occasions as well as a signal by the selection of a certain tune, that either trouble or an important guest was approaching.
Tin Whistles: by the Generation Company, England 1970's.  The whistle is an inexpensive end-blown wind instrument originally made of tin by traveling tinkers who sold them for a penny (also known as penny whistle) more than a century ago.
  ABOUT THE ARTISTS
Billy Oskay is a master musician on violin, viola, harmonium, and keyboards.  He received his MA in music from Ball State University in Indiana and also studied in Spain where he was awarded a professional diploma in violin and chamber music.  Equally comfortable in jazz and other popular styles Billy has toured extensively and has recorded with many artists as a session player.  Famous for co-founding the Windham Hill group Nightnoise, he is equally well known for his producing, arranging, and recording skills on over thirty-five cds distributed both domestically and internationally.
Jim Chapman a versatile traditional artist specializing in cittern and whistles and is truly one of the finest tin whistle players in the northwest.
Sandin Wilson is a master of the Fretless Bass and has recorded with the Swingline Cubs, Quarterflash, Nu Shoes, Michael  Gettel, Cal Scott, among others.
Eric Rigler is equally at home on The Great Highland Bagpipe, Scottish small pipes, and uilleann pipes. He is in high demand as an Los Angeles studio musician and is best known for his performances in the Movie "Braveheart" and in work with Alasdair Fraser and the group Skydance.
Gregg Williams is a percussionist in high demand in the northwest and in parts of New Jersey.  He has performed with Quarterflash, Jeff Leonard (mercury records), and Lee Ritenour.
Tarik Banzi is a Morocan born  master musician on the oud and North Africian hand drums  who performs and records with the group Al-Andalus.
Cantores Ecclesia is a vocal ensemble specializing in early sacred music.  they perform regularly at Saint Patrick's Church in Portland, Oregon.  Karl Blume, Terry Ross, Gregory Potter, and Blake Applegate are members of this larger group.
Randal Bayes is a world class fiddler and guitarist well known to fans of Celtic music.  He has performed and recorded with numerous groups including his work with Martin Hayes that was received as number one folk recording in Ireland 1995.
Mureen Love is a northwest performing and recording artist on the concert harp.  She has several cds of her own original and romantic music.
NOTES
Thanks to Billy Oskay for sharing my musical visions, and for bringing them all to life so beautifully.  This recording would not have been possible without his dedication, hard work, knowledge of Celtic music, and friendship; to Bob Stark for his masterful mixing and sound design; to Cal Scott for his meticulous MIDI keyboard and sound design work; to all the fine musicians who breathed life into their parts well beyond what I had imagined; Special thanks to Klaus Heyne -German Masterworks- for supplying custom microphones and Neve pre-amps for this project; to Ed Hoke for the loan of his families old Irish fiddle used in "Yeats Country"; to Jack Nelson – Consultant and ancient Gaelic (Gaeilge) coach on "Patrick In The Spirit" for his generous and able guidance; to Ger Killeen – poet and scholar, for his wealth of knowledge as a consultant for the language and history of his people; To dear Kate and Ilene O'Moore who had me as a guest in their bed and breakfast in Lahinch, Ireland, danced for me the jig, and introduced me to their nephew Micheal O'Domhnaill (leader of the Bothy Band) who in turn put Billy and I together; to Micheal O'Domhnaill and Alasdair Fraser for their inspiration of the production of Tara – Hill of Kings; to Burl Ives who who had me play beside to Old King Cole, giving me the vision for Farewell; to Dick and Nell Doan for their love and continuous encouragement; to my wife Deirdra for not only sharing the vision but also the life experience of travelling through Ireland and assisting and or encouraging me at every level of the project; to all the great people at Hearts of Space that have worked so hard to bring this recording to you; to Layla Hill for making it all run smoothly; and lastly but by no means the least, to Stephen Hill who has taught me something about trust and whose faith in me and my music goes back well beyond this recording.
In addition to visiting the sites where the events of the past are said to have happened, I have drawn inspiration from conversations with many people along the way,  and from my reading of Patrick's Confession, his Letter to the Soldiers of Coroticus, from his prayer "Cry of the Deer", from Liam De Paor's work "Saint Patricks World", "The Flowering of Ireland" by Katharine Scherman, Thomas Cahill's insightful book "How the Irish Saved Civilization," "Sun and Cross" by Jakob Streit, the wonderfully imaginative novel  "The Lion & The Cross" by Joan Lesley Hamilton and from scores of other books and articles collected on my journey these past few years toward bringing to you "Erie- Isle of the Saints."
All selections composed by John Doan,
© 1997 Heirloom Serenades (BMI),
except Hill of Tara © 1997 John Doan, Heirloom Serenades/(BMI) and Billy Oskay (BMI).
Farewell (Celtic Twilight #HS 11104-4, 1994) and The Journey Home (Celtic Twilight 2 #HS11106-2/1995) were previously released by Hearts of Space and were Produced by Billy Oskay with John Doan at Billy's Studio.
Also by John Doan
Wrapped in White: Visions of Christmas Past – Tapestry Productions
Remembrance – Melodies from a Forgotten Era – Tapestry Productions
Departures – Narada Records
Farewell and The Journey Home arranged by John Doan.
All other selections are produced, arranged, and recorded by Billy Oskay with John Doan at Billy's Studio. Additional recording by Bob Stark at White Horse Studio, Portland, OR., January and February 1997.
Mixed by Bob Stark February 1997 at White Horse Studio, Portland, OR.
Additional mixing by Dave Friedlander March 1997 at White Horse Studio, Portland, OR.
Sound Design by Billy Oskay, Cal Scott, and Bob Stark
Digital mastering by Bob Olhsson and Stephen Hill at Hearts of Space, Sausalito
Liner notes by John Doan, and edited by Anna Ellendman and Stephen Hill
Cover photo by Steve Solinsky
Inlay photo by Jeffrey Elliott
Artist photos by Deirdra Doan
Graphic Design by i4 Design Sausalito
For information on bookings, recordings, etc., contact: John Doan at www.johndoan.com