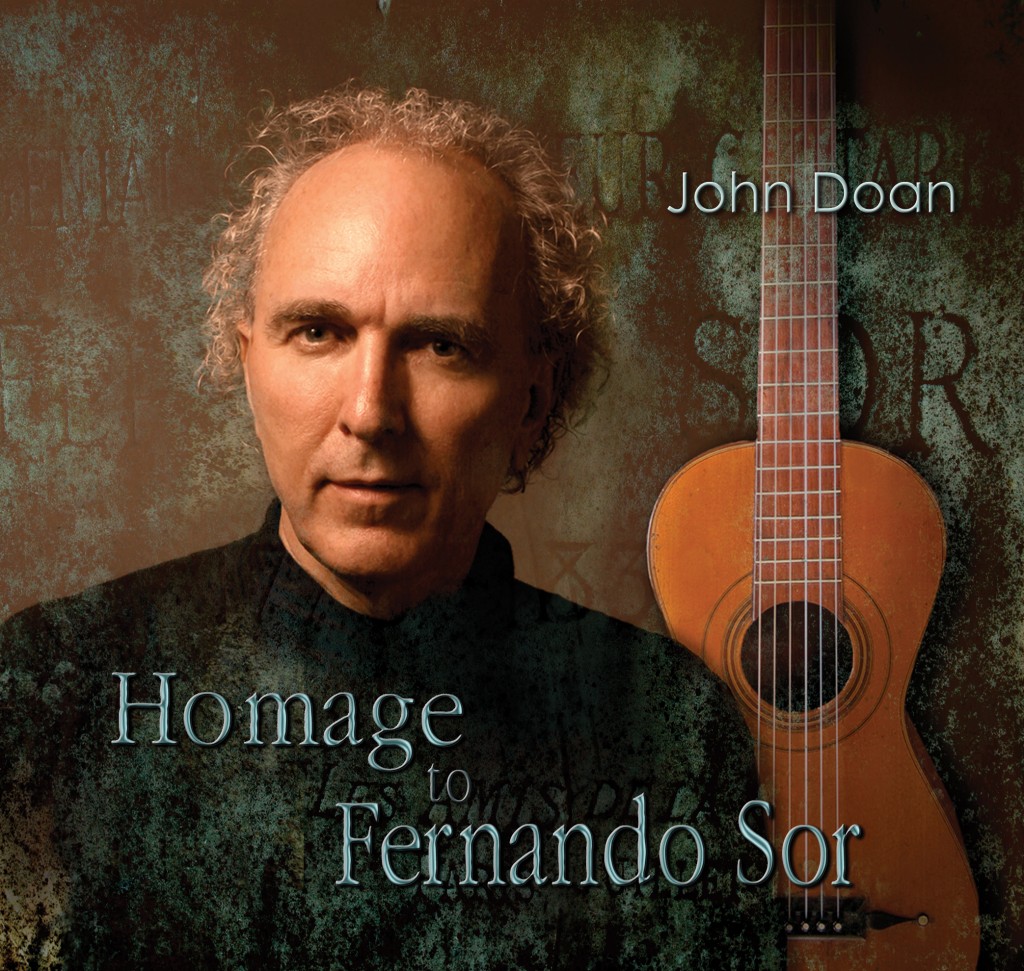 Emmy-Nominee, John Doan is an award-winning composer, recording artist and concert performer. In this program he brought his love of music, history and storytelling together to provide his audiences with an immersion experience into the life and times of Fernando Sor (1778-1839) the premier nineteenth century guitarist who has become affectionately known today as the "Father of the Classical guitar."
"Captivating and beautiful music, Homage to Sor took the audience deep into reliving history."
John Granholm – Executive Director Umpqua Symphony Association

"Rather than just another guitar concert, John Doan's Homage to Fernando Sor was truly unique and memorable … words that come to mind are beautiful, inspiring, original, informative, and insightful."

Portland Classic Guitar Series
John Doan Homage to Fernando Sor Live Concert Excerpts
In the next excerpt from the Homage to Fernando Sor Live Concert, John Doan imagines Fernando having difficulty with a pick up line meeting a girl.
Performance Description and Summary
John Doan's "Homage to Fernando Sor" not only chronicles the turbulent life and times of the fabled pioneer of the classical guitar (Fernando Sor 1778-1839) but transports the audience back in time through his masterful storytelling and playing of authentic 200 year old instruments that are rarely, if ever, heard on the concert stage. John's bog oak guitar, by one of England's premier Luthiers Gary Southwell, virtually defies time being one of the world's first instruments made from 5,500 year old wood! The sound was timeless! Images of period paintings help tell the story as history becomes personal and expressions of the heart and soul timeless.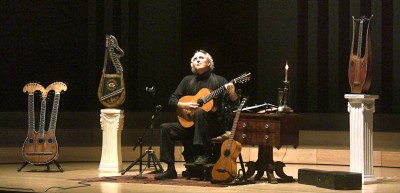 "Homage took us through a secret door in time allowing us to glimpse, or walk through to another dimension. John's skill as a musician is unparalleled, his rapport with his audience is as greeting an old friend, his musical interpretation of emotion and experience resonates within the depths of our heart."
Che'usa Wend – Avery Theater, Etna, CA
Sor's times were literally revolutionary witnessing the Napoleonic Wars that found him fighting for Spain, siding with the French, and subsequently being forced into exile living as an international musician in London, Moscow, and Paris. An accomplished composer of symphonies, ballets, quartets, choral, vocql and piano music (as heard in the pre-concert music) he brought his board palette to the humble six string guitar basically reinventing it's literature and raising the bar as to its musical possibilities.  In the face of lowering standards in the arts of his time Sor maintained that the guitar could be a noble instrument emblematic of the common man's rise of importance in society.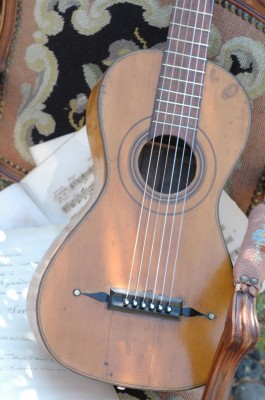 A few years ago John Doan acquired an instrument that very likely Fernando Sor commissioned himself to be built in London in 1819. Doan composed on this instrument new works for this performance and has recently released a new recording titled "Homage to Fernando Sor" based on the life and times Sor expressed through his music. Hearing Sor's works on an original instrument added dimension to Doan's understanding of Sor and invited him to engage Sor in a musical conversation outside of the constraints of time that he shares with his audience who is given a rare glimpse into the inspirational world of musical thinking and emoting. Doan's program is accompanied by images of period paintings whose subject embraces Spain and the guitar.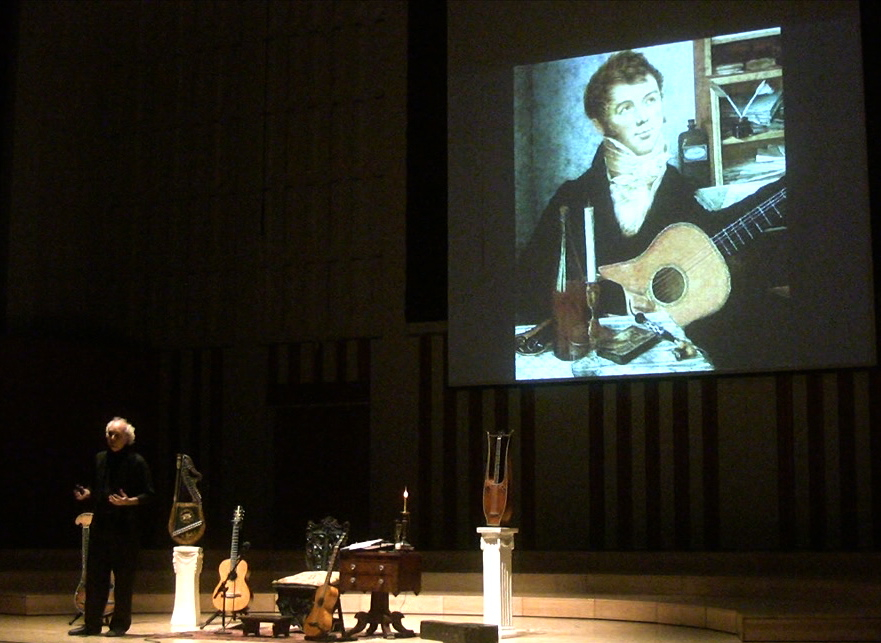 Doan's deep exploration of Sor's world has been greatly enhanced by some of the world's leading scholars personally guiding him through the narrow streets of Barcelona and within the walls of the Monastery of Montserrat where Sor grew up and among downtown London, Moscow and Paris addresses were he lived and worked.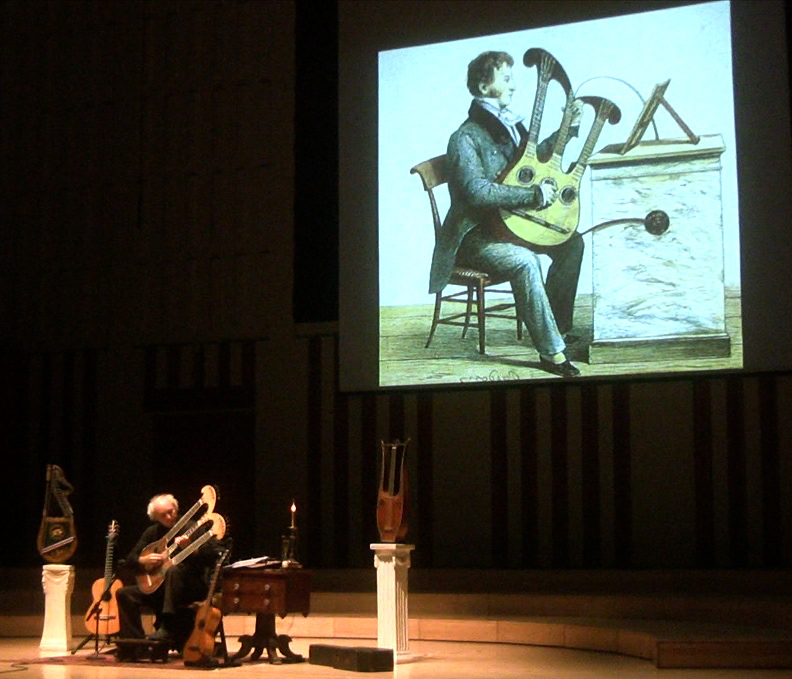 Doan is the only musician who has ever played Sor's complete works for the three-necked harpolyre (recorded on "The Lost Music of Fernando Sor").  He will include in this program some of this music on an original harpolyre built in Paris, France in 1829 (see below video of John on YouTube playing the harpolyre – over three million views!). Doan will also provide context to Sor's work by performing on a period Dital harp (ca. 1815) from England and on an authentic lyre guitar (ca. 1815) from France.
"Your "Homage to Fernando Sor" has me believing that I'm listening to Fernando Sor … or his spirit. It's like you used the Sherlock Holmes application of empathy – you put yourself in the place of someone in order to know what he would do and how he would do it."

Ben Hoff – Author

"Doan's commanding performance has sensitivity and transmits a palpable sense of excitement of discovery that radiates through the excellent recording quality."

allmusic.com by uncle dave lewis 

"Doubtlessly John Doan's recording is an important cultural achievement."

KENNETH Sparr. Gitarr och Luta, Sweden 
John's classical studies include a guitar performance degree from California State University at Northridge along with numerous master classes with renowned artists such as Oscar Ghiglia, Michael Lorimer, and Alirio Diaz and lute studies with Toyohiko Satoh, Paul O'Dette, Frank Eyler (Paris, France) and Catherine Liddell.