Fall is upon us and I feel like I have been running since May only recently catching my breath.  In that time I was on a six week concert tour in Europe, have hosted the 11th Annual Harp Guitar Retreat, performed on several occasions and started teaching again this September. I will be reflecting on some of these adventures in a variety of brief upcoming posts.
May started out with finishing my 40th year of teaching at Willamette University. I really love working with all the amazing young people I get the opportunity to teach and know.  From year to year my students seem to never age!  They are always 18 to 22 years young.  It feels like I am the one who continues to pass through time a year older.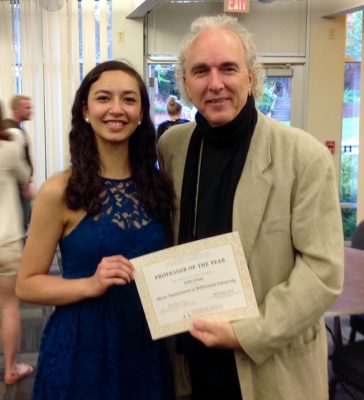 At the end of this semester I was awarded "Professor of the Year" by Rosalind Fraser during Willamette University's All Greek Awards 2018 night.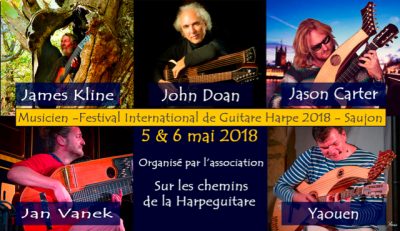 Within the week I shifted to my other persona as a performer and was in Bordeaux France for an International Harp Guitar Festival along with some of the instrument's finest players.
You may want to familiarize yourself with the work of James Kline, Jason Carter, Jan Vanek and Yaouen.  It was so fun and inspiring to be among them for two days of concerts (Jason was unable to attend).
The event was billed as featuring the harp guitar but while in France one also celebrates fine food, and there was a lot of it.  The point of it all was to build relationships among old and new friends, and make some soulful music.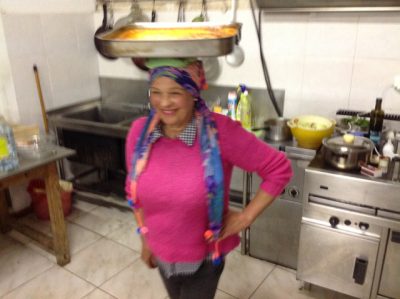 Some of the food was presented in unusual ways such as being  served by the chief carrying a plate of food on her head!
Each evening was magical and I was even given a gift during the concert of a fresh baguette.
There were several European harp guitar makers in attendance all bringing a sampling of their wares.
Each are accomplished makers (group photo left to right Joris Feuillâtre, Eric Darmagnac, Benoît Meulle-Stef, Cédric Verglas, Sylvestre Charbin, David Fenkhuber, Sean Woolley) with David Fenkhuber (Rohrbach-Berg, Austria) (Gard, France) and Sean Woolley (Gard, France) featured in right photos).
Benoît Meulle-Stef brought several amazing harp guitars from Belgium that not only spoke with great tone and volume but physically had a magnificent presence.
A favorite pastime was to take pictures in an attempt to remember how special it was to hang out with all these truly wonderful, talented, and interesting people.
The whole event was made possible by the vision and hard work of Annie Claire Marie Drouillard (seen on the left in the above photo) and her helpful volunteers. I was touched when she told me that she came to the harp guitar after discovering my recording Eire – Isle of the Saints.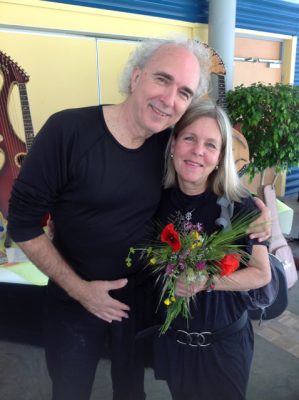 Once the festival was over I took off with my wife Deirdra to explore another adventure a few hours drive north of Bordeaux toward Nantes to the small village of Chateau-Guibert.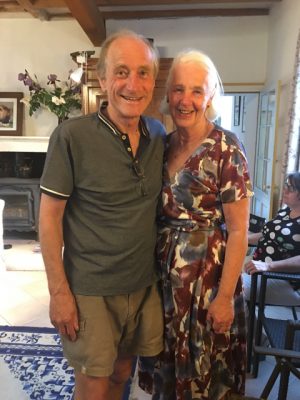 Some old friends, Anne and Malgwyn Elmer, who are inspirational writers and speakers, offered to host a house concert in their home.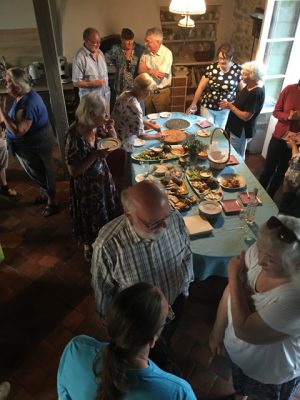 In France, a concert is not just about music.  It is about enjoying the moment face to face with friends around a table of food and bottles of wine.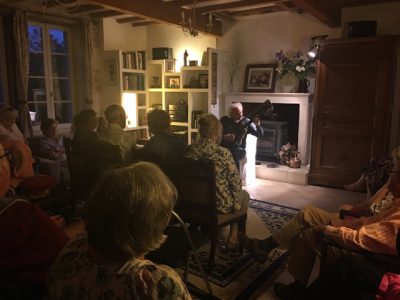 Moving from the concert stage at the festival with its auditorium seating, stage lights, amplification, guitar cables, etc. to sitting in front of a fireplace with instrument in hand and friends and neighbors gathered about, we all relished in the intimacy of the moment.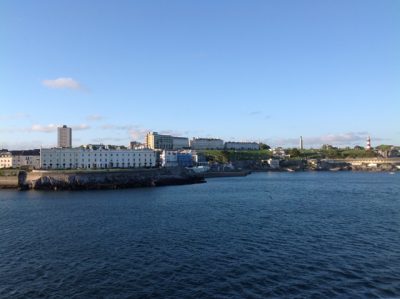 Deirdra and I soon sped off to Roscoff Harbor to catch the ferry to Cornwall, England continuing our dream tour adventure of concerts and exploring life in foreign lands.
(to be continued in "Highlights of Harp Guitar European Tour Summer 2018 Part 1: England").