The 11th Harp Guitar Retreat and House Concert turned out to be one of the most fun and magical to date!
One of the highlights of the event was the "John Doan Look Alike Contest."
Everyone really tried their hardest but didn't want to lose any hair over it.
The contest ended in a draw (we were laughing so much that we forgot to take a vote).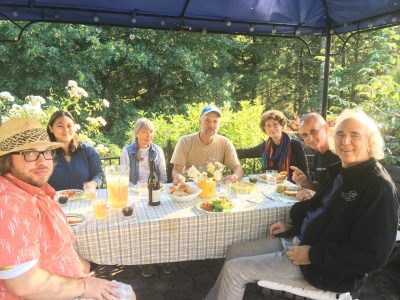 The event started with a sunset-lite evening get together catching up with old friends and making new ones.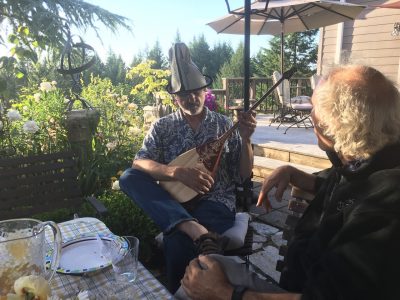 Steve Bissell had been away on business in Kazakhstan and didn't even have time to take off his Kalpak when he arrived. He brought with him a dombra hoping to add a few strings to convert it into a "Doanbra" for the Harp Guitar Retreat.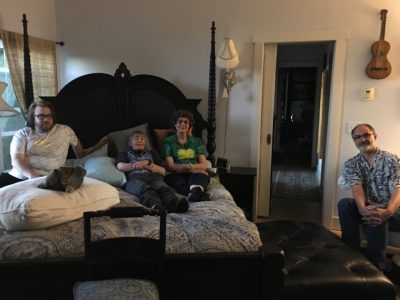 Everyone got along so well that they wanted to be roommates for the weekend but later thought better of it.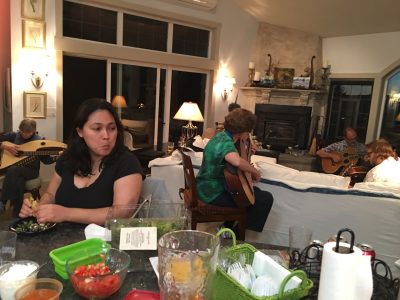 The evening turned into an amazing jam session. Tasha thinks that she should maybe take up the harp guitar since everyone else is having so much fun.
On down times the retreat turned into an ongoing "Show and Tell."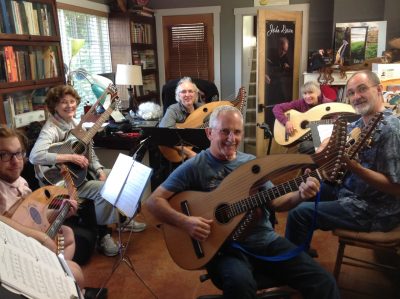 After morning class and the daytime private lessons …
Saturday night turned into a potluck/house concert open to the community.
During our last class I shared a story about catching Julian Bream (my favorite classical guitarist) back stage after a concert.  I asked him if he could tell me in one sentence what I needed to know to play like him.  He turned to me with his hand half cupped over his mouth, and under his breath said, "Don't tell your teacher, but just have fun!"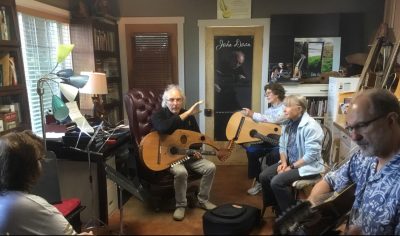 And that is just what we did!
11th Annual Harp Guitar Retreat Reviews
"Fabulous retreat! I learn something new each time.  It was worth travelling from the other side of the world to the retreat. Thanks for making learning so fun!" Steve Bissell

"The Harp Guitar Retreat is not only a fantastic immersion into the art of playing the harp guitar but also into the fascinating world of guitar history in general.  I have been to several and still learn new things every time." Nick Vest

"As usual the harp guitar retreat was just a whole lot of fun.  There is probably no more beautiful setting in the world than the top of Doan Volcano, nor any more peace that can be found gazing out through the leaves from the balconies surrounding the Doan casa. John and Deirdra really know how to make us feel welcome and enfolded in the warmth of their love.

The lessons were informative and useful, the house concert was delightful, the open air meals were refreshing, the time spent hanging out with each other and trading the knowledge we each brought to the gathering were all precious. If the retreat lacked anything, it was time to sleep; we were all too enthused to want to call it quits in the evenings because we might miss something! I'm looking forward eagerly to the next Harp Guitar Retreat." Angele Blanton

"The retreat was very inspiring, and I enjoyed learning from everyone.  We are all unique individuals, seeing and experiencing music from different directions, which adds to the gestalt of the retreat experience.  I came away with something from everyone.

I would not change a thing about the retreat. The format is good, and you make this kind of music accessible, breaking the subject down in such a way that even people at different levels in the same class can take away what is useful to them, and will move them forward.  Your skill as an instructor and patience with everyone is outstanding, and rather refreshing.  I liked the choices of material and particularly liked the breaking down and demonstrating how the melody, bass and super trebles work in concert. Lavinia Ross

"What a wonderful time I had at the 11th Harp Guitar Retreat. It was evident to me the amount of love and effort John and Deirdra put in to this event. I think the others would agree, that they made each of us feel so valued.

We had individual tutoring from John each day, with the goal of helping each of us excel in our own musical journey. We were like sponges soaking in all the musical knowledge about how to play, not only the Harp Guitar, but the essence of music as a whole language.

One thing that really stood out to me was John's description of musical tones in relationship to human feeling. It's so evident in John's compositions.!!! John truly is a Master of touching the human spirit through his music. I long to do the same!!!

I loved spending time with all my new friends, listening to them play their music! What a rare privilege to have spent time with John and Deirdra at their home. I came away very encouraged. I will remember it all of my days." Bruce Labadie

House Concert Review

"We loved the whole evening. A very special memory." Neil

"It was pure magic!" Miriam

"What a pleasure. Thank you for one of the most memorable and magical evenings of music in my lifetime. The stories you tell are part of the magic as well.  I am not sure how so much talent ended up in you John."  James