John Doan's Eleventh Annual Harp Guitar Retreat is set for June 28th to July 1st 2018 in Salem, Oregon at the home of John and Deirdra Doan.  You are invited to join us. (see below for a daily itinerary, Saturday concert, testimonials, photos, fees, and registration information). Players wanting to learn more about the harp guitar have come from across the United States and as far away as from Europe, and Malaysia.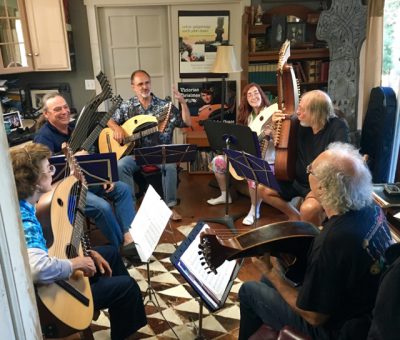 The Tenth Annual Harp Guitar Retreat was a huge success with classes, private lessons, Harp Guitar Gallery, Music Nights, Concerts, and plenty of time hanging out talking about life and, what else, harp guitars!  We begin each day with a three hour group class where we are hands on the instrument exploring harp guitar playing techniques, music ideas, and even ensemble playing.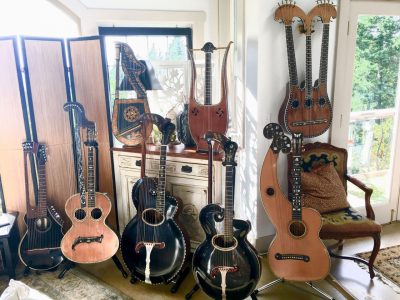 We always have a great line up of harp guitars of all sizes and makes, all for you to test drive at your leisure.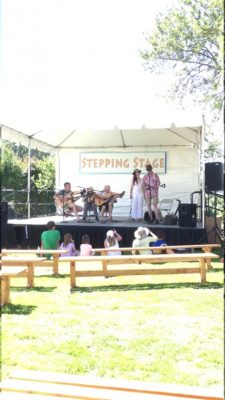 We even had the whole class play at a local World Beat Festival.  It was a hoot combining harp guitars with Chinese drum, an electric shovel guitar, and a real operatic soprano!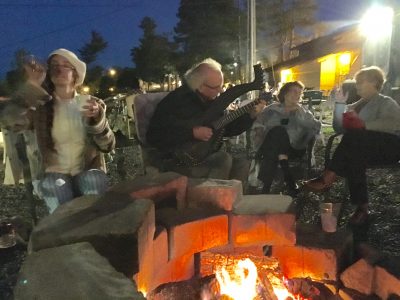 One of the nights we go down to the little nearby town of Independence, bring some harp guitars, and try out some local brews while sitting around a fire pit.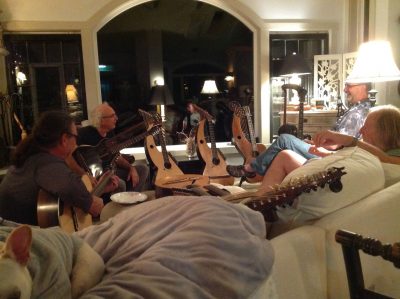 Other nights we hang out after dinner and play for each other.  This is a great informal way to share music, technical insights, and to get a chance to play in a stress free and supportive environment.
The instruments are very interesting that are either on site or brought by various players.  Here is Steve Bissell with the earliest known harp guitar made by the famous Larson Brothers around 1901.  It was completely restored by Kerry Char of Portland, Oregon and not only looks spectacular but it sounds with surprising clarity and forceful dynamics! Everyone in the class gets to hold and play some of the most amazing harp guitars on the planet!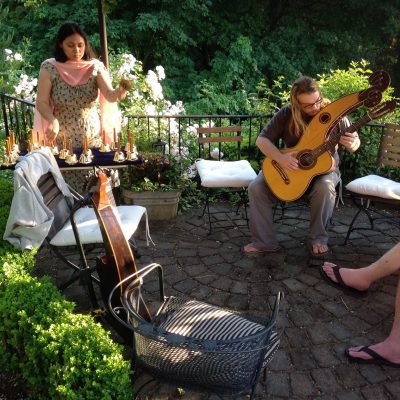 Nick and Tasha Vest come up from Los Angeles and have performed not only throughout the event and into the evenings, but also have opened the Harp Guitar Retreat house concerts held on the deck or out under the trees on top of the Extinct Volcanic Plug where John and Deirdra host the retreats.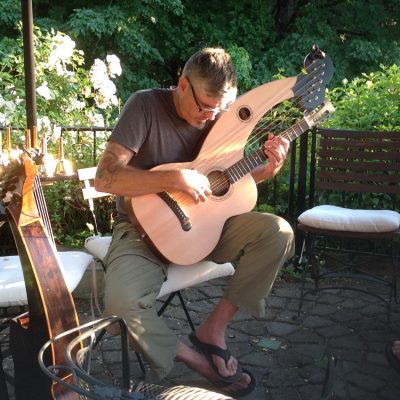 Jerry Voorhees came with a nice Dyer Style 4 harp guitar.  He played some really fine originals at the House Concert event.
Melissa Ferrell-Young, who is quite an accomplished opera singer, came from Seattle to look into ways to accompany her voice with the harp guitar.  She added so much joy to the event.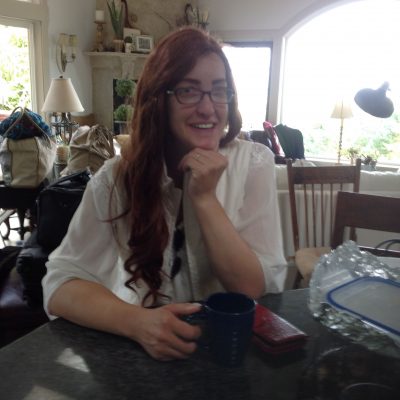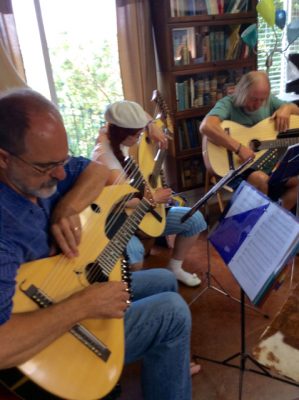 Overall, the classes give you an opportunity to try out unique techniques to the harp guitar.  Many of these are taught without having to read from music so you can focus on your playing.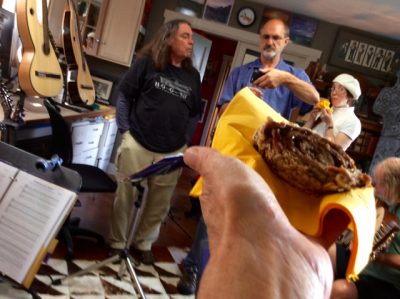 Rigorous effort needs frequent breaks, especially for fresh baked pastries.
Lunches, dinners, evenings at a local outdoor pub, and times between lessons provide hang times to relax and have fun and on occasion visit with Lyra the little French Bull Dog.
It is fun to see the friendships that develop at the harp guitar retreats.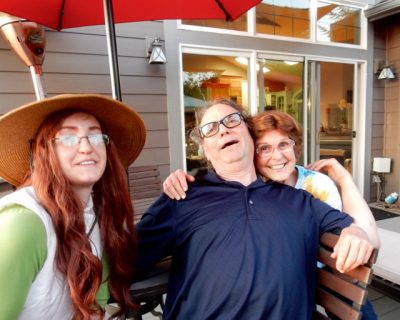 One of our classes we even videoed an ensemble tune "Harp Guitar Sunset" that we debuted at the outdoor concert.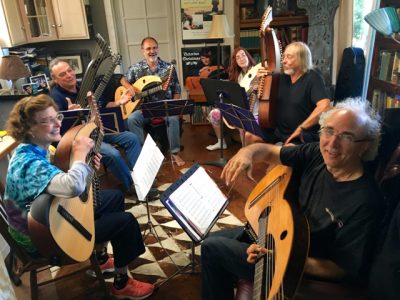 Some Testimonials About the Harp Guitar Retreat
"Tasha and I had a great time at the retreat this year.  I had a major breakthrough on my super treble understanding."

Nick Vest

"I was so thankful to be able to be part of such a fun, memorable and fascinating gathering of musicians, and to go home with some exciting ideas from your excellent lessons to apply to my own music making."

Steve Bissell

"Thank you for the wonderful weekend and for the knowledge you have given me! I am hoping to return next year. I made some great friends and had so much fun."
Melissa Young

"It was another magical weekend, and they just get better and better.

The retreat location in the canopy of trees above the extinct volcano is beautiful, and the view over the valley out the living room window is amazing. The rooms filled with instruments all waiting to be played and enjoyed was a real banquet for the hands and hearts and ears.

Our lessons were packed with information we could actually retain and use in our musical journeys. You are a true teacher in that you are able to find out what each person needs and then tailor the lessons to fit. Having the group learn and perform a brand new piece you composed just for the occasion was a real treat, and the start of a new tradition. The students melded together into a cohesive, mutually supportive group that enjoyed each other and had fun together."

Angele Blanton
"What a privilege to have met and spent time, all too short a time with you. I can only hope it can be repeated. A truly unforgettable experience. Thank you for your company.

Unforgettable – unmissable – if you get the opportunity to attend a retreat with John at Prospect Ridge grab it firmly with both hands not forgetting to hold onto your harp guitar with your third hand, believe me you'll need it.

On a slightly more serious note ………………

John's ability to demystify the Harp Guitar with its myriad complexities, assess your rung on the Harp Guitar ladder and suggest the next step was breathtaking. I arrived  at Prospect Ridge somewhat concerned about the instrument I'd hauled across the Atlantic and left four days later convinced that I'd made the right decision.

A Thesaurus of superlatives would be inadequate to describe the experience.

The only regret – not going on the previous retreat!

So huge thanks to John & Deirdra – and the other attendees – Gerry, Steve, Angele and Melissa for an unforgettable and memorable few days."

Robin Launder

 
"A splendid time was had! The local beer was great and the harp guitar playing was amazing!"

Gerald Camp the Third
Included with registration: All lodging and meals are on site and included with registration. Printed materials are provided for each student with a series of exercises and compositions to take home after the retreat.
Instruments available on site: There will be several harp guitars on site for your use if you do not have one of your own to bring to the seminar. You definitely will want to check out the latest model of Travel Harp Guitars from Lukas Brunner of Switzerland.
Incidental Activities: There is plenty of hiking trails, tax free shopping, local wine tasting, on site hot tub, trampoline, and wireless internet. The site is central and about one hour away from the Oregon Coast, the high desert of Bend, and the cities of Portland and Eugene. In between classes and private lessons there will be time to just relax, practice, read, explore the area, or casually visit with other harp guitarists.
Space is limited: Retreats are limited from five to seven participants and their guests. Spouses, friends, or family attend at a reduced rate. If needed an additional weekend retreat will be scheduled to accommodate more participants.
Participants Fee: $700
Included four nights stay, three group sessions, three private lessons, meals, evening presentations, and various incidentals.
Additional guests Fee: $250
Includes four nights stay, meals, evening presentations, and various incidentals.
To enroll or for more information call or write, please use our contact form. Or call 503-364-4787 or write to us at harpguitar(at)gmail.com or PO Box 5081, Salem, OR 97304.