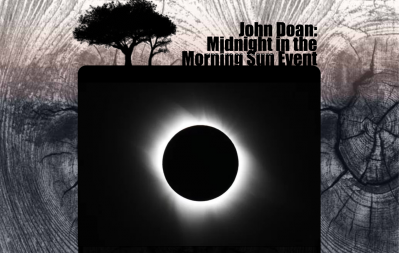 The Doan's live atop an extinct volcanic cone in the hills of South Salem directly beneath the Path of the upcoming Full Eclipse.  
Projected Position of the Sun over Harp Cliff Manor at 10:30 a.m., August 21, 2017, as the eclipse occurs.
Exclusive 3-Day "Midnight in the Morning Sun" Event August 19-21, 2017 Hosted by John and Deirdra Doan
1.  Enjoy Three Days and Nights Exploring the Valleys, Hills and Wineries of Western Oregon.
2.  Take in a private concert by master guitarist, John Doan where he performs music inspired by the evening sky.
3.  For the more adventurous take in nature by way of a river float viewing native birds in their wild habitat.
4.  Kick back with a book, a hot tub, 
or hike in the private woods that surround the area (no worries as the trails are well marked, although it will help to read the signs).
5.  Warm yourself by an outdoor fire looking into the star studded skies accompanied by the music of John Doan.
6.  Be the second to hear John's original composition "

Midnight

 in the Morning Sun" written just for this occasion. Lyra, The Doan's French Bull Dog is the only one who has heard it so far.
7.  All food, lodging, and events are included in the event package. 

John and Lyra will drive you to off site events.
Write to me at jdoan (at) johndoan.com for more information and costs for the "Midnight in the Morning Sun" event. If interested please respond to this limited time offer by next Wednesday, August 9th.
Remember, Few Events will eclipse this one so write back soon.  
All the best,
John, Deirdra and Lyra