The 9th Annual Harp Guitar Retreat June 23rd -26th, 2016 is a great event to learn harp guitar basics and beyond (see below for a daily itinerary, Saturday concert, testimonials, photos, fees, and registration information).
This is different than a festival environment that focuses on various performers who entertain us with their playing, this is a workshop and immersion experience with the entire emphasis placed on you and how you want to grow as a musician with a harp guitar in your arms.
You will be introduced to:
1. Various techniques and concepts of playing the harp guitar
2. Exploring ideas on how music works through hands on application and all sorts of discovery activities.
3.Composing and performing through personal coaching
4. and being inspired.
If any of the above interests you please consider reserving your place for this summer's 9th Annual Harp Guitar Retreat held at the home of John and Deirdra Doan.  At the retreat you will have access to John's years of experience as a pioneer of the harp guitar, an Emmy-Nominated and award winning recording and performing artist as well as a University music professor.
The setting is nothing short of breath taking with expansive westerly views of the Willamette Valley from atop a towering extinct volcanic plug that the house is built upon (the only eruptions forecasted are of music and laughter).
It is an intimate stress-free environment with all levels of playing/performing encouraged and accepted for an educational seminar involving a very limited number of participants.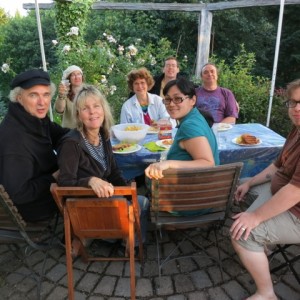 You may come out to learn about playing the harp guitar but you will also leave with some new friends.
The retreat starts with a Thursday night dinner and informal performance for those who would like to play. The class and lessons are laid back and are aimed at working with players who have just started playing the harp guitar and with those who want to put an edge on what they already have accomplished with the instrument and their music.
Weekend morning classes begin with reviewing various exercises from the new harp guitar instruction book John Doan is preparing for publication as well as various activities playing the harp guitar by ear without the distraction of following a written page. Continue reading →