I recently had the pleasure of hosting several lutenists from Oregon in my living room. I had played the lute for many years, had studied with Toyohiko Satoh, Paul O'Dette, Catherine Liddell, Robert Strizich, Donna Curry and Frank Eyler and was deeply inspired by the humanity of its music and the range of emotions it spoke through its life celebrating dances to the soulful and melancholy tinged reflections of our existence that all but entered into a sacred music. When I think of the English renaissance lute I think of plays by William Shakespeare, outdoor Renaissance Fairs, Elizabethan times filled with discovery of new foods, up to then unknown creatures, and indeed awareness of expanded worlds and religious controversies that caused us ever since to partake in extended discussions of who we are as a people and where we are going.
This weekend brought all that to life as old and new friends joined together with a common interest in the Lute.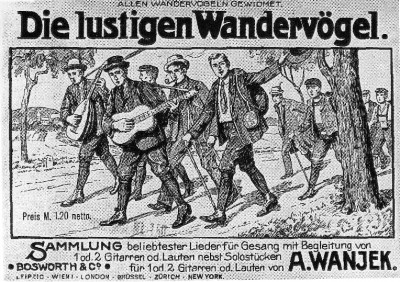 But the lute has had many variants such as the Gitarrenlaute – also known a the guitar lute popular with the German Wandervogel "return to nature" movement of the early 20th century.
Phil Petrowski brought his guitar lute popularly known today as a lutar.
He objected to it being called a "guitoot"!
Mark McBurney gives an impressive performance with his proud teacher Hideki Yamaya looking on.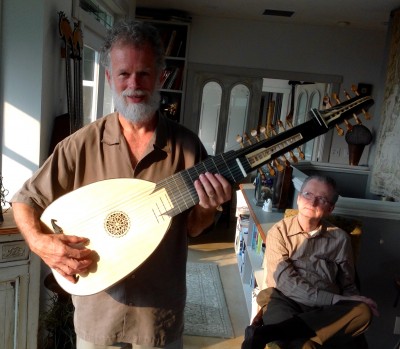 Ken Wryn of Northwest Lutes proudly displays a baroque lute he made.

Hideki tries out another of Ken's lutes and wonders if he will go "baroque" if he bought it.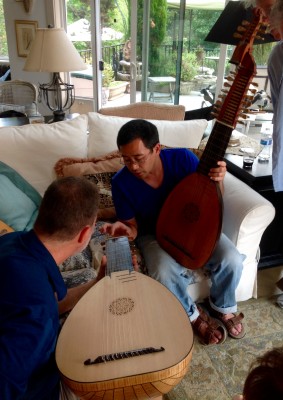 Phil and Hideki discuss who has the biggest lute.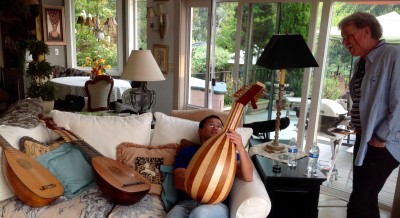 Bradley Wycoff shows Hideki his lute and asks if he ever played three lutes at once.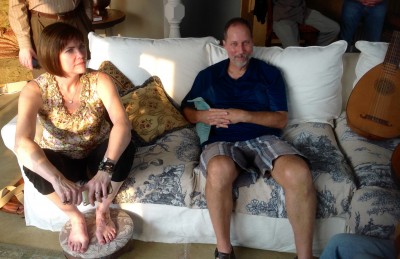 Missy Wryn and Phil sit mesmerized by all the lute music.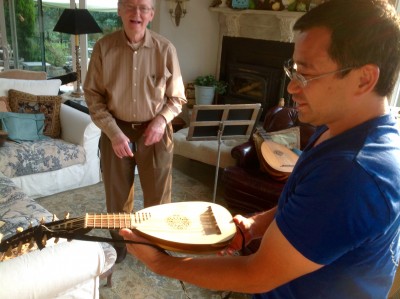 Dick Weleber laughs when Hideki says he knows a "little" lute music for his instrument.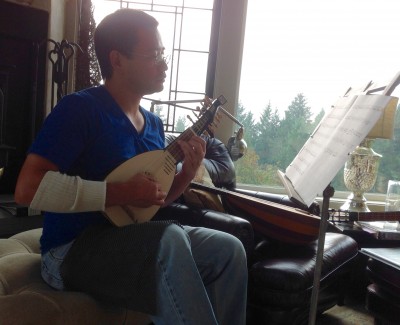 Hideki masterfully proves that big music can be played on little instruments!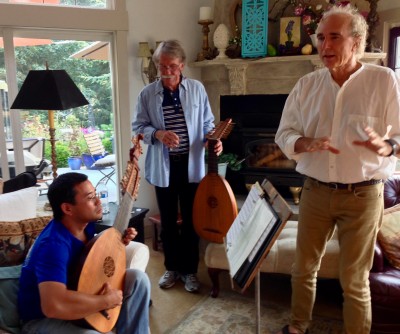 Everyone starts to dance to Hideki's Disco version of Silvius Leopold Weiss (just joking).
Hideki and I discuss if there there is any extant lute duet music titled "Dueling Theorbos." (sorry, I will try to behave myself)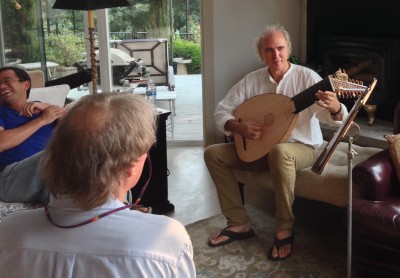 John has the audience in stitches as he starts to play the lute.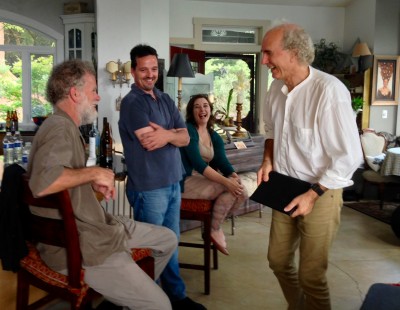 I ask Ken if he would donate one of his lutes to my collection.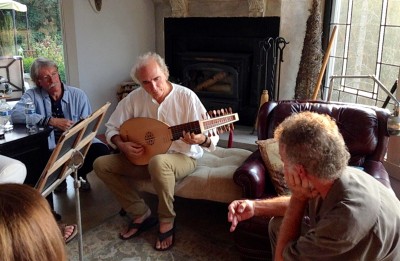 I take a break from all the kidding around and debut a new piece I wrote for the lute.
I was very encouraged by the caring response of many who commented on the new piece.
"It was most enjoyable to listen to you play your variation on Green Sleeves.  Usually, I cringe when someone plays that tune ; I've heard it more than a dozen times – infinity!  Yet, you transformed Green Sleeves from a way-too-familiar tune into – no, not "into" but "down into" a shadow laden cavern where ancient rituals emerge to feed the flickering flame of wearied compassion." Ken Wryn
I really love ken's enthusiasm and imagination!
Your performance of the variations you composed on Greensleeves, was marvelous. I think that some of the finest music I have heard that has been composed in the past 50 years has been for guitar and now the lute!

Dick Weleber
I think in the future if I ever need encouragement, these are great folks to be around!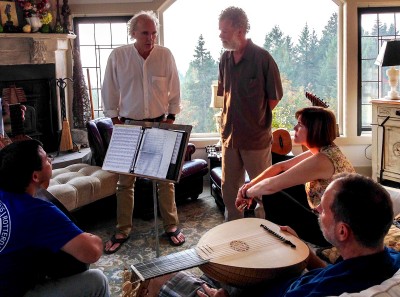 It was a great afternoon of not only sharing Lute music but also enjoying each other, and that really made it all worth while.