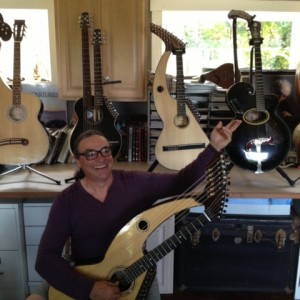 The Sixth Annual Harp Guitar Retreat held at my home in Oregon was a huge success. Not only did we talk about and play harp guitars all day and night but we all became great friends!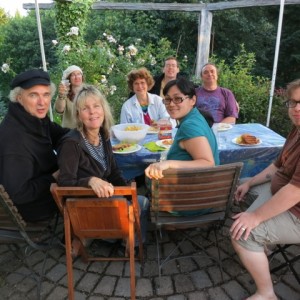 Holding the Retreat atop of an extinct volcanic plug seemed to encourage harp guitar music to erupt from every room along with great conversations at outdoor meals.
Evening Barbecues were great fun outdoors and provided a perfect opportunity to talk more about harp guitars.
Joshua Tan won the award for coming the furthest distance (8,148.6 miles) as he flew all the way from Malaysia for the Harp Guitar Retreat. Where he comes from a cool day is 90 degrees Fahrenheit (32 celsius). It may have been a new experience to actually place coals in the barbecue to cook the food.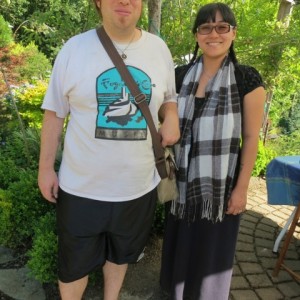 Nick and Tasha Vest brought several harp guitars to the Retreat. They both surprised us with their amazing compositions for the instrument.
Morning classes had everyone at the edge of their seats learning more about the harp guitar.
We read various exercises from my upcoming harp guitar method book.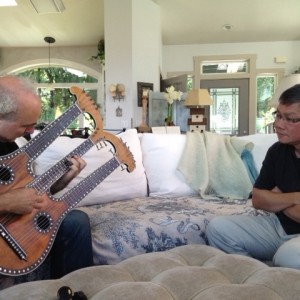 Inside the house there were numerous impromptu performances on whatever instrument we happen to be sitting closest to (John Doan is seen here playing the harpolyre).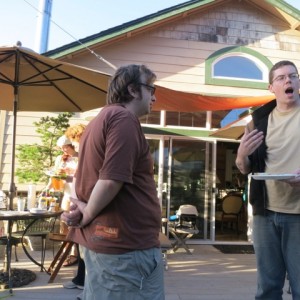 Outside evening meals found players conversing about everything from harp guitars to Tibetan throat singing (something Adrian Bellue is demonstrating while Nick Vest holds his breath waiting to thunder his response).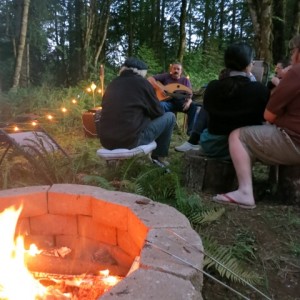 The second evening we all played for each other around the campfire. In an effort to lessen performance anxiety everyone wore a disguise thinking that no one would actually know who was playing.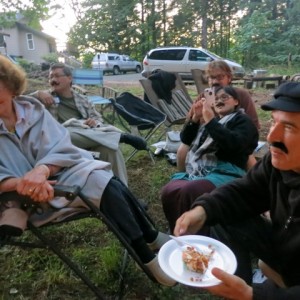 Angele apparently had trouble finding her nose. Others did not.
Beside the classes and individual lessons there was an evening concert that was open to the community. Everyone helped to set up the stage out in the woods on the property.
Gerry Camp provided the sound system which required a lot of bending over while Melissa Young decorated the stage. Adrian made sure that they had harp guitar music in there ears as they worked. He seemed to get lost playing the new Jay Buckey Ukrainian 21 string harp guitar that had just arrived a week earlier.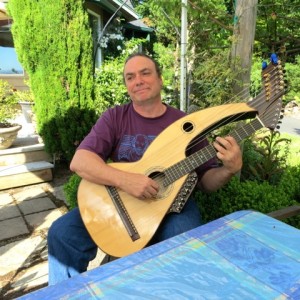 Gerry warmed up in preparation to open the show on his Woodley White harp guitar.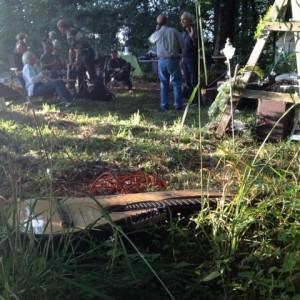 Thinking that it might be better for him to play at another time he tried to hide his harp guitar in the tall grass (but someone found it).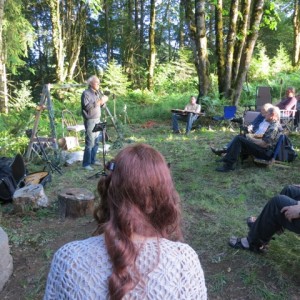 I greeted our audience and introduced him.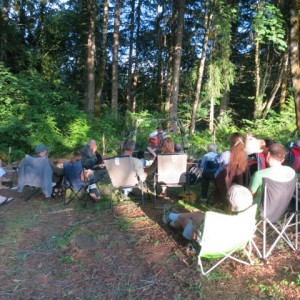 Nick soon followed on his Gibson harp guitar that was strung in nylon strings. He played perhaps the first ever composition based on a twelve-tone row for the harp guitar. We were all spellbound!
After Adrian Bellue (blew) away everyone with his incredible harp guitar playing I tried to get the crowd back with a set of my own.
As the tiki lights were lit at dust there was magic in the air.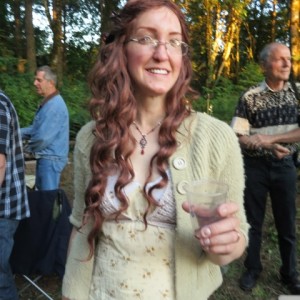 At the intermission wine was being poured. Melissa, when she wasn't singing and playing her harp guitar, was also adding a touch of class to the event. Cheers!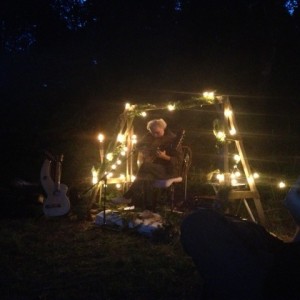 After the sun set we turned on the lights on our make shift stage.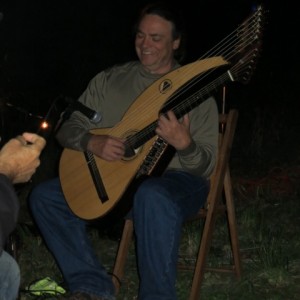 Gerry mesmerized the audience with his computer and tone modules that were triggered individually by plucking specific bass strings. We all were transported out into the evening sky and back again during his after show set.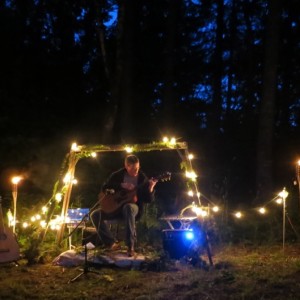 In the after hours Adrian tried to make a six string guitar sound like a harp guitar but instead succeeded in making it sound like a marching band – complete with drumming, tuba basses, and piccolo harmonics! I think the world of guitar and harp guitar players will be impressed with this rising star.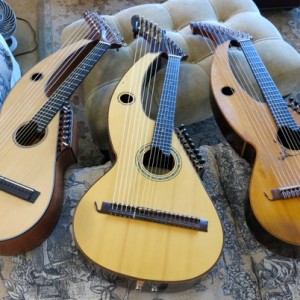 It was hard to say good bye to everyone. Even Gerry's harp guitar wanted to have a group hug with it's father (my Elliott/Sullivan harp guitar on right) and it's new brother (the Jay Buckey Ukrainian 21 harp guitar on the left).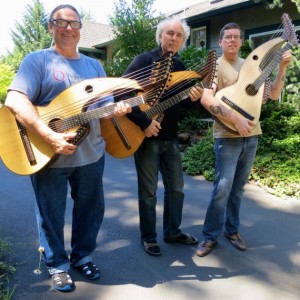 As Gerry forced a smile, and Adrian thought of ways he was going to sneak the Ukrainian harp guitar into his suitcase, we decided to be brave and not cry at our parting.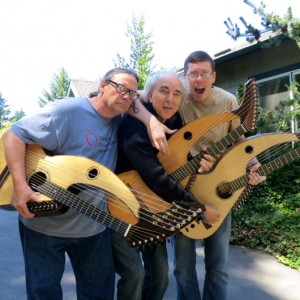 Although we were crying inside, instead of hugging each other we managed to grab the other's harp guitar and spontaneously improvised a sixty-one string version of "Farewell."