After Paris we drove to Le Mans, a city known for car racing, ancient buildings and doors, obscure building regulations, and now for hosting the first International Festival for the Harp Guitar.
I was honored to be among such great international players.
As is the custom of the French, nothing was hurried. We took time to mingle, eat, drink and eventually get around to performing two concerts.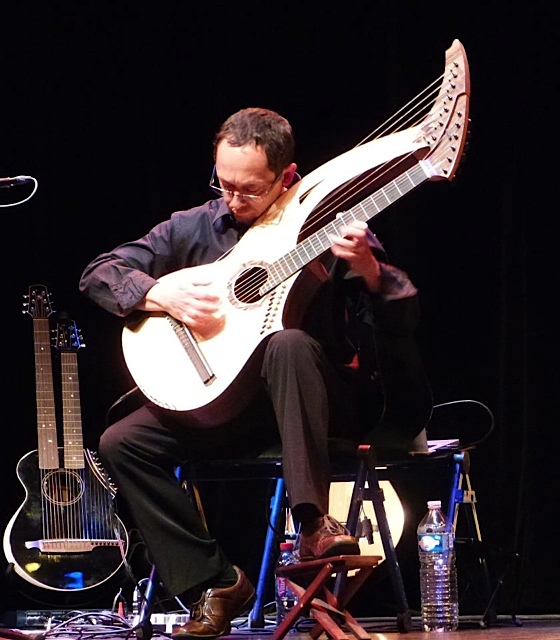 The player host for the event was Philippe Fouquet – a very fine harp guitarist, composer and overall great guy!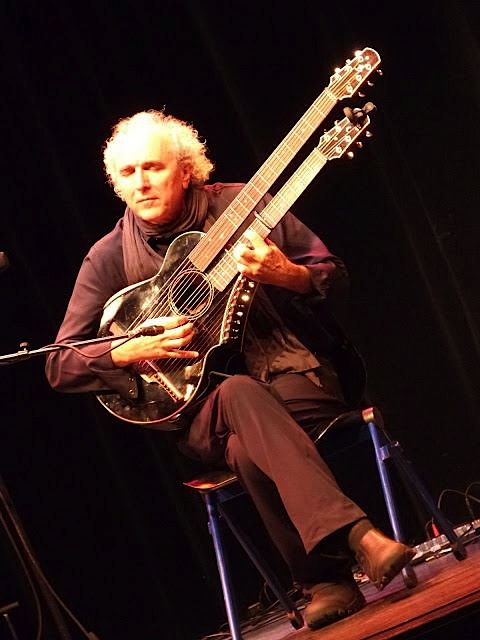 They tried to distract me by tilting the stage but I was lost in the music and didn't notice.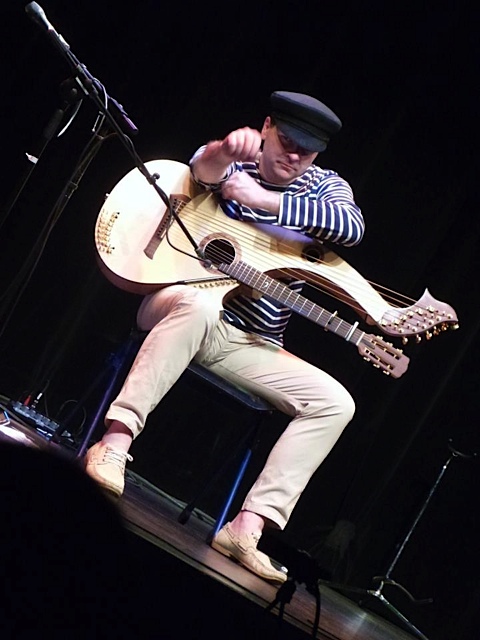 The French harp guitarist Yaouen can be an aggressive player and then lull you with his gentleness (more about him below).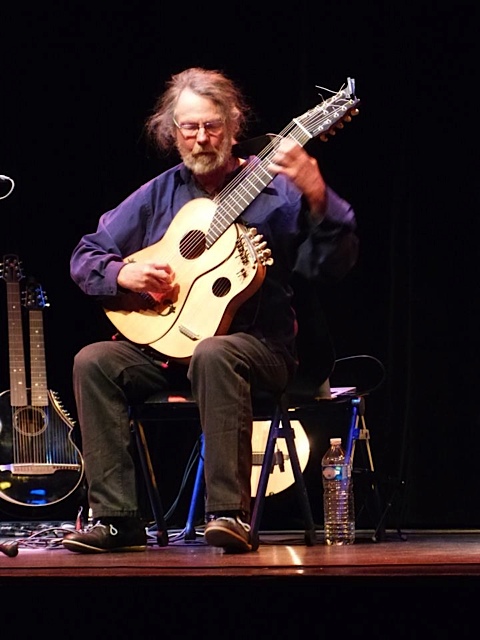 James Kline had added to his instrument an attachment for super trebles he calls the "sidecar." He trades off living in Brittany and the Canary Islands and is truly a world-class player.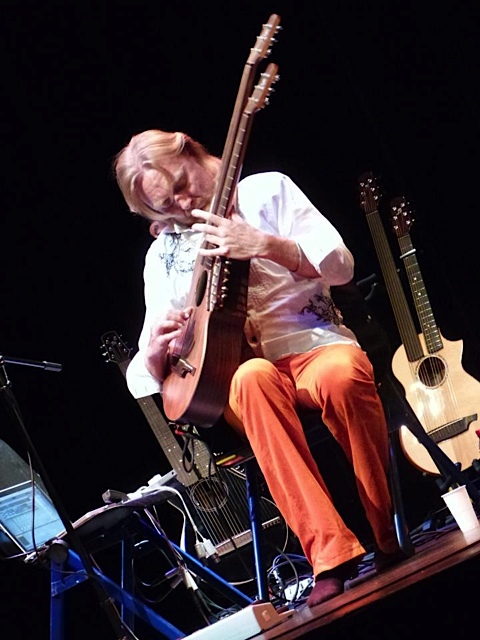 Jason Carter played a variety of instruments including his travel harp guitar by Lukas Brunner (the same maker of my travel harp guitar). Jason plays with great tunefulness as well as pushes the envelope with tasteful electric experimentation.
He has more recently been working with the very heartfelt and talented vocalist Verity Smith. Uffa, her seeing-eye dog was a real hit of the event (click Uffa to see his own youtube video!).
On the second day noted harp guitar historian Gregg Miner gave a lecture on harp guitars that go beyond just adding bass strings to a guitar to ones that add super trebles as well. He had self admittedly not thought much about this version of harp guitar until this event when he was impressed that every player in the Festival played this form of the instrument (unlike in America).
My theory about this is that European's for centuries have emphasized melody over rhythm and this form of harp guitar encourages melodic invention while the American tradition of popular music has been greatly influenced by West African music tradition that emphasizes rhythm over melody.
Various makers took the stage to discuss their own thoughts on harp guitar making. Cedric Verglas – L'atelier des musiciens discussed the harp guitars he made for Yaouen and Philippe Fouquet. His haunting eyes make you want to discover the nuance of his beautiful harp guitars.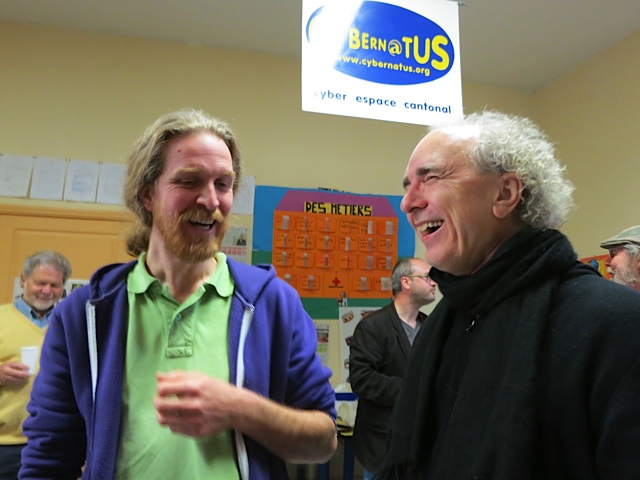 Throughout the festival Cedric continued to tell me jokes in French. Although they were very funny I am still unsure what he said.
Sean Wooley took the stage to discuss his approach to nylon string harp guitars. Jason Carter makes them speak quite impressively and yet sensitively.
Stephen Sedgwick, an English maker, has arguably made more harp guitars than any other single builder in the world! (he hopes to meet the right girl someday). His instruments are refined and extremely well crafted. I personally have owned several of his instruments and highly recommend them.
Benoît Meulle-Stef, a French luthier living in Belgium, displayed his updated version of a century old Italian design by Luigi Mozanni. At first I was struck by its massiveness but was then totally amazed at the fullness and power of the instrument and especially the clarity of the super trebles that he extended to two octaves. It is my opinion that Benoît is one of the most articulate, inventive, and historically informed harp guitar builders to be found on the planet.
The First Harp Guitar Festival in Europe was a great success. The concerts were very well received and at the end all the people that made the event happen were acknowledged (no small number).
Before the curtains closed on the weekend of music making group bows were made to thunderous applauds (I believe everyone was facing the audience).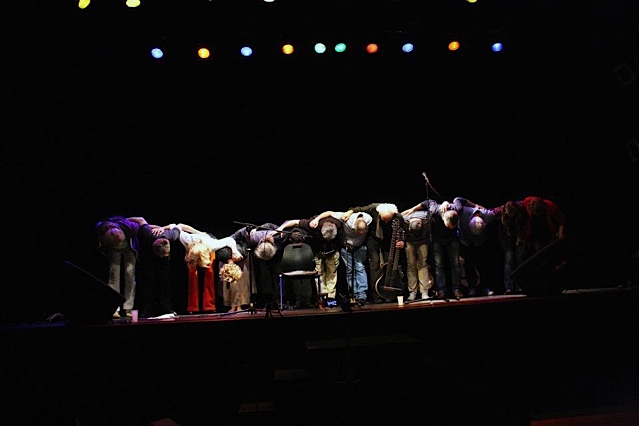 Europe 2013 Tour – The Journals
These are from the journals of our European Tour 2013.