After I transitioned from culture shock to playing at the NAMM show and exploring Fernando Sor's footsteps in Moscow I settled into playing harp guitar in concert and taking time to compose some new music.
It was great to meet fans I had been corresponding with for years and making new friends. Turgenev Hall was a wonderful place to play and the audience was so enthusiastic and generous in their response to the concert.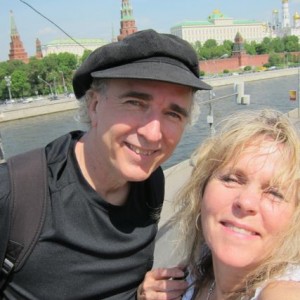 Deirdra and I were in Moscow for a week.  It was great fun to add being tourists to the concert touring. We got familiar with the subways and blending in with our Moscovite comrades and took several trips into the heart of the city.  Here we are with the Kremlin behind us. What you don't see is the the massive traffic jam caused by the city shutting down while Puttin's limousine rushed through the cleared streets surrounded by armed hummvies.

Inside the Kremlin we were in awe of its national treasures and colorful architecture.
In the city its art museums and galleries were overflowing with historical Icons, remarkable paintings and hand made dolls selling in the thousands of dollars.
We even went off the beaten track to a flea market on the outskirts of town.  There one could purchase furs hats for the cold winter among various other common items.
At one point I needed to sit down but had an uncomfortable feeling that a Russian bear was very nearby.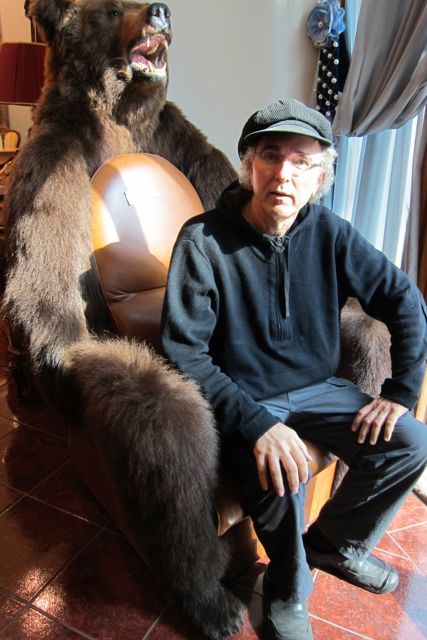 A Moscow music conservatory invited me to make a presentation about the evolution of the guitar that lead up to the harp guitar.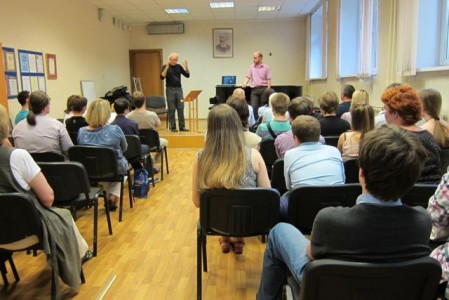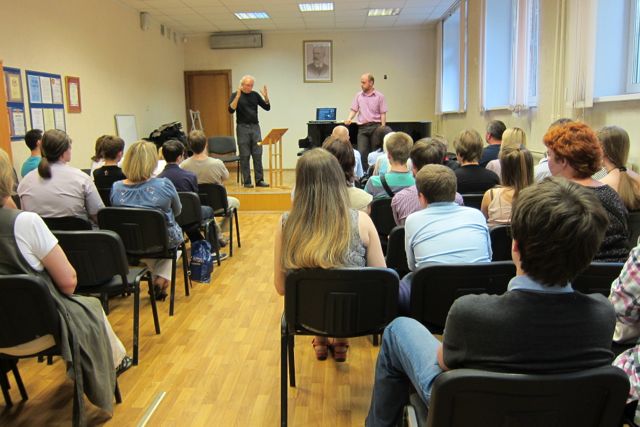 As with all the concerts, the entire audience stayed afterward and we had a great time being up close an personal.  Several younger guitarists said they play electric guitar but were thinking that maybe the harp guitar would be way more cool.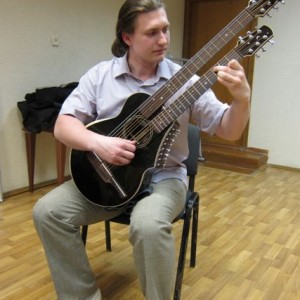 One guitarist stayed until the vary end trying out my harp guitar. Oleg Moskalev instantly was making the twenty strings all work together.  He was such a natural I predict that he will be getting a harp guitar in the near future.
Later that week I played a concert for the Moscow Guitar Club.  It was great to see posters up and around the city.  They meet at a community center where they regularly have guitar concerts.  I felt honored to be included in the series of concerts they held this year.
With Andrew translating I was able to tell stories between pieces and really involve the audience.  They hung on every note and were quite surprised when after several encores I dismantled my harp guitar before their eyes. They came undone over the whole event and were so loving toward me.
One of the guitarists in the audience was Yuri Chiorny. He wrote:
"I am delighted your playing at a concert on May 23 in Moscow. And this feeling increases more and more. You are an Artist from capital letter. You came to us from the fairy tale. Many performers play well, but they simply performers. You give us the world of beauty, truth and good. Thank you very much!"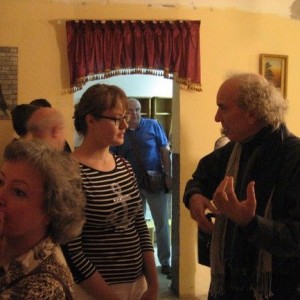 As before, the audience didn't rush away after the concert.  It seemed so special to them and they made me feel so special from all the attention they gave me.  The Russians are passionate people. I know this now from personal experience.
I meet the editor of the Russian Classical Guitar Magazine and Master teacher at the Conservatory.  He generously presented me with several copies of his magazine.  Remarkably their logo was of a 19th century harp guitarist and tonight's performance was the first time any of them had actually heard a harp guitar performed.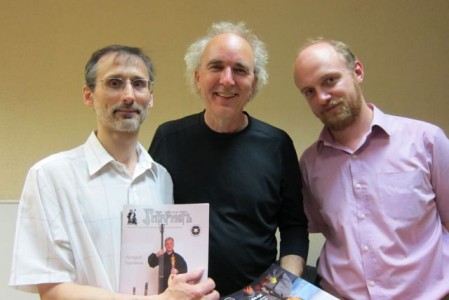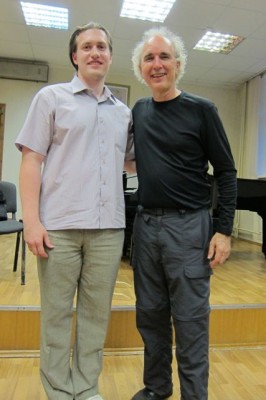 Several of the people from the other concerts and lecture came again to the Moscow Guitar Club concert. I so enjoyed seeing Oleg again.  He just radiates goodness and the best of the Russian people.
I thanked Andrew for inviting me to perform in Moscow.
I believe I took away from the experience far more than I gave. It was with a full heart that Deirdra and I took off into the Russian sunset making our way to Berlin for more concerts and adventures.