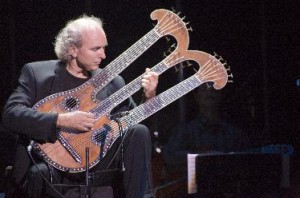 My YouTube videos playing the harpolyre continue to get a lot of attention, and I wanted to share with you a little of the backstory of this amazing three-necked harp guitar.
In an effort to bring history to the harp guitar I discovered ten works for the harpolyre written by Fernando Sor, known as the Father of the Classical Guitar. The amazing thing about these compositions is not only are they extremely tender and lyric pieces, but they had never been played since 1830 and perhaps have never actually been heard in public until my recording "The Lost Music of Fernando Sor" along with my live performances and YouTube videos. I felt like Indiana Jones uncovering this forgotten music for a forgotten instrument.
I ordered the microfilm of this music in 1977 from the La Bibliothèque nationale de France (BnF) and with this extremely rare and beautiful music in my hands, I could only dream of finding one of a handful of existing harpolyres upon which to really recreate these beautiful musical pieces. After thirty years of the hunt, I was blessed to find a circa 1830 harpolyre that had been restored to near pristine condition.


With the harpolyre in hand and with no previous models of performance of this music to build upon I was on a musical adventure to make sense of both the music and the techniques of playing it.  With the able assistance of J. Doreen Simonsen – Humanities/Fine Arts Librarian at the Hatfield Library on the campus of Willamette University, I found an original treatise for the harpolyre written by its creator Jean François Salomon in the La Bibliothèque nationale de France.
What I discovered in these pieces is a moment in Sor's life that captured the elegance and drama of living in Paris around 1830 as well as reflecting his gift for lyric melodies stemming from his love of opera and expressive singing. Although his early work bore the restraint of classical reasoned musical forms Sor proves here to be a romantic at heart trusting his imagination and strong emotions to infuse this music with passion and vitality.
"These pieces are among Sor's best compositions and they well deserve revival. Doan handles these works with sensitivity and transmits a palpable sense of excitement of discovery that radiates through the excellent recording quality". 
Uncle Dave Lewis – allmusic.com
As I dug deeper into the story, history, and mysteries of Sor and his music I followed "The Lost Music of Fernando Sor," with another recording "Homage to Sor." My research on Sor and the harpolyre led me to acquire a six-string guitar that was very likely made under Sor's supervision in London in 1822. This instrument would have been a copy of his personal concert guitar by Juan Pages of Spain. To hold in my hands something the father of classical guitar touched and possibly played makes this instrument even more special as I continue my work to engage with Sor across the decades.
As I worked on this historic instrument and with the intense and majestic music this master of the guitar left behind as his legacy, I've imagined myself in conversation with him over the centuries – as if time was no constraint on our relationship. I've traveled to the places important to his life in Barcelona, the monastery at Montserrat, Paris, London, and Moscow and stood in the spots where he stood, imagining his life, the thoughts in his head, the feelings in his heart, the events in and around him which ignited the sparks of creativity, leading to so many lovely musical compositions.
"Homage to Sor" is a very romantic work and some of the most delicate music I have written to date, and one I am most proud of. It's such an honor to revive the work of the great guitar master, Fernando Sor and to ponder its universal themes that transcend the barriers of time.  I almost feel as if I found music played into a bottle that had been cast out to sea centuries ago and have now added a musical response to be discovered by audiences today and for centuries to come.